Red is the new black and it's hot. Though black leather trousers are pretty common, wearing red can help you create a meaningful and bold fashion statement. For this reason, the popularity of red leather pants are catching up in speed. Hence, it's completely logical to add one or two such colored pants to your wardrobe.
Red leather pants are seasonless and can work pretty much everywhere from family occasions to office to brunch. The scintillating red shade in leather fabric can give any outfit the classy edginess. Moreover, if you have the dare to impress the eyes with your unique bold personality, the following red leather pant outfit ideas will help.
What Color Goes Well With Red Leather Pants?
Dark colors can create a visually striking appearance. For instance, black and blue can take the outfit to the next level. On the other hand, avoid wearing red as it will make the appearance bland. Some of the colors matching well with red pants are:
a) Black
b) White
c) Blue
d) Different hues of brown
Also Read
20 Leather Pants Outfits to Live In for the Rest of Winter
What Type of Shirts Go With Leather Pants?
Plaid shirts, crop tops, turtleneck sweaters, fancy tops, form a really good pair with leather pants. A tailored navy or black blazer also work well. Even tees and hoodies can also be the good picks here. Once you know how to style, options are endless.
Red Leather Pants Outfit Ideas
1. With a White Tee and a Black Blazer
Image: Source
Like an iron drawn towards a magnet, I'm attracted to this outfit. Elevate the appeal of your red leather pants with a simple white tee. Use your black blazer as a layer. The black and white colors are contrasting the red pant perfectly. Such an outfit can never go wrong. Here, the mix-and-match texture is creating an interesting appeal.
2. With a Black Top and Blue Velvet Blazer
Image: Source
Cate Blanchett, an Australian actress, has rocked this look while on the set of Ocean's Eight. No doubt, Cate was looking edgy in this outfit. If you want to glam up for a dinner party, this can be your failsafe choice. The blue velvety blazer when worn with red pants can add to your gorgeousness. Wear red ankle boots to improve the seriousness of this fantastic look further.
3. Cuffed Leather Pant with a White Button-Up Shirt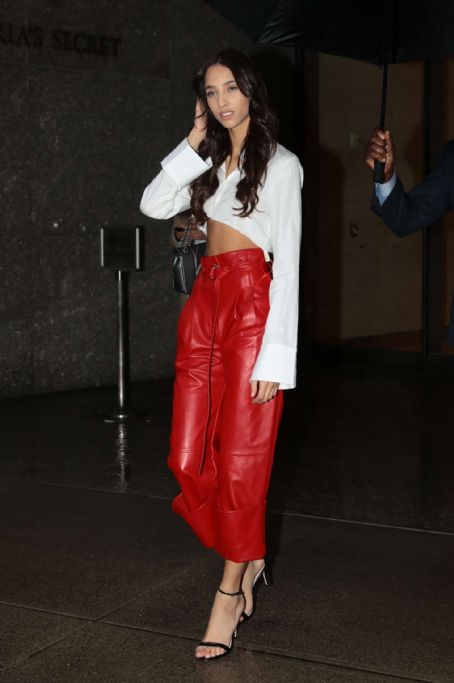 Image: Source
Yasmin Wijnaldum, the Dutch model, is donning a red cuffed leather pant and white chiffon shirt.  You can turn the shirt into cropped style, as the model has done here. Watch this video to learn how to do it. It's easy to pair, ensures comfort, and is perfect for a night out. This is an effortless look you can try if in a hurry. A playful black sling bag and black strappy heels can be just the right finishing touch for your look.
4. Leather Legging with a White Lace Top
Image: Source
For those who want a sweet smart casual look. A white lace top can blend naturally with the rest of your outfit. Whether you're looking for a casual or an office outfit, consider this red leather pant outfit. To infuse more feminine vibe in this look, wear light jewelries like a beaded bracelet, earrings, and a pair of boots. If the temperature is too low, you can take a blazer to stay comfortable.
5. With a Beige Vest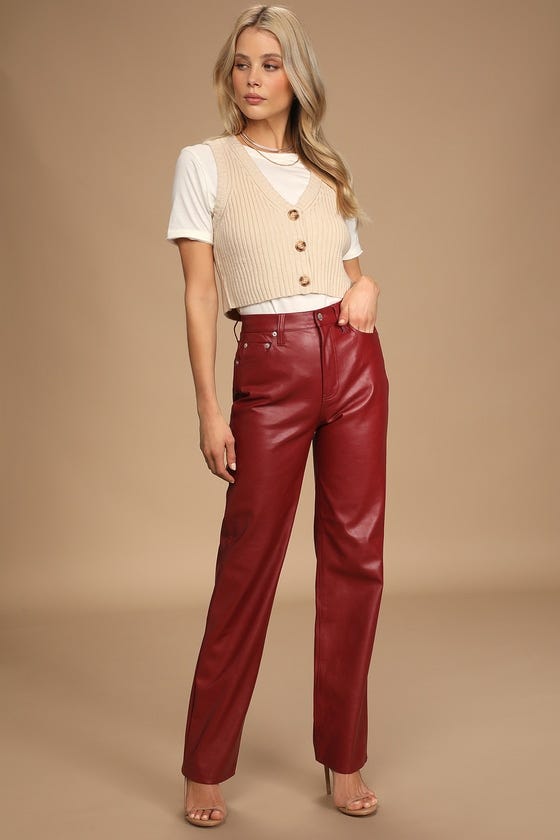 Image: Source
Vest is a trendy item and a perfect layering piece. There are plenty of vest outfit ideas on Instagram. A beige vest teamed up with a red leather pant looks like strawberries on whipped cream. You can also wear a tee-shirt underneath. Beige creates a perfect contrast with red. A pair of high heels and a simple gold chain, that's all you need to complete the ensemble. No worries if your pant has a straight cut. It will look excellent with a form-fitting top like this.
6. With a Turtleneck Sweater and a Long Coat
Image: Source
Turtlenecks can make any simple outfit look creative. You'll get endless layering choices for them. If you're ready to play with colors, consider this outfit for your office. Tuck in your turtleneck top. The brown long coat is elevating the appeal, giving you a more stylish look. Regardless of your body type, you can give this outfit a try. For a pop of extra shine, wear sunglass and a pair of fun earrings.
7. With a Denim Jacket
Image: Source
A denim jacket can be your year round uniform. From winter to breezy summer nights, you can dress yourself up and down wearing it. Any light-washed denim jacket pairs perfectly with a red leather pant. Such a combination looks like a pair made in heaven. Either you can wear it as a standalone piece or with a tee underneath. The choice is yours. For a head turning look, keep your hair untied and wear black shoes.
8. Go Monochrome in Red
Image: Source
Yes, red on red. Monochrome means rocking a single color. Confused about which color to choose? Go monochrome. You can either pick the same fabric or try a different one. However, if you want to avoid a too much glossy look, avoid pairing the pant with a leather top. A black sunglass can bring an interesting twist to this outfit.
Also Read
18 Monochromatic Winter Outfits You'll Fall in Love With
9. With a Red Beret Hat
Image: Source
The beret isn't going anywhere. Rather its increasing popularity is leaving an impact on current day aesthetic. In fact, this Parisian staple has become a major accessory in the runways. Just wearing a beret can change your overall look. Plus, if you're going with the red color, it will spice up the appeal of your red leather pant even more. This outfit can be your failsafe choice for hanging out with friends.
10. With a Cargo Jacket
Image: Source
If you give priority to comfort, pick this outfit. A cargo jacket is a super cool and versatile piece. For winter, wear camouflage puffer jacket. Replace this puffer jacket with a well-structured cargo jacket for summer. The color combination of such a camouflage jacket matches nicely with a red pant. However, make sure that your leather pant has a slim-fit cut to go well with the heavy puffer jacket. Complete this killer casual outfit with a leather tote bag.
11. With a Tank Top
Image: Source
Singer Iggy Azalea, is spotted wearing red leather pant with a black tank top. This combination is a proof that a safe casual ensemble doesn't have to be boring. Here, Azalea has turned up her street style glam with this black and red excellent color combo. Need a going-out outfit for a night with the BFFs? Add a lil leather to your lewk and a tank top. Simple and effortless.
12. With an Off-Shoulder Blouse
Image: Source
The supermodel, Bella Hadid has chosen to match Victorian-inspired black off-shoulder top with red leather skin tight pants. Her blouse is featuring frill details. Bare your shoulders and let the passersby feel envious. For some extra dose of style, wear a simple gold necklace having a pendant, red shoes, and a red mini bag. This is the outfit that will make you feel a bit fancier.
13. With a Leather Coat
Image: Source
Leather on leather style is chic and subtle. The bright color of the pant will stand out on its own. From leather trench coats to biker jackets, you can pair almost any leather item with it. You can either wear a sexy one piece top or a scoop neck t-shirt. Tone up or down depending on the occasion. If you want an edgy look, opt for strappy heels with rhinestone. On the other hand, choose platform boots, if you're wearing the leather coat with your tee.
14. With a Poncho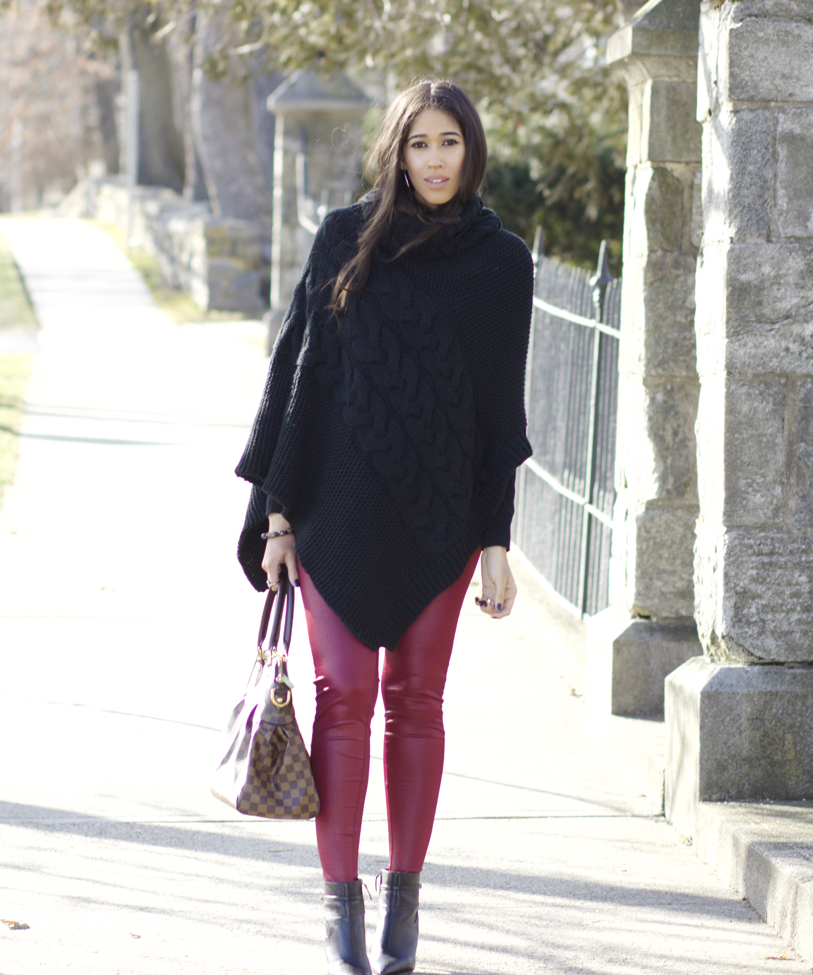 Image: Source
A poncho offers the comfort akin to a blanket. The 2021 runways have witnessed many celebrities like Victor Glemaud and Jil Sander making ponchos a trend-worthy silhouette. Go for a leggings like leather pant. As the color of your pant is red, the failsafe color of the poncho will be black or navy blue. Complete the ensemble with a pair of ankle boots. This outfit is fashionable and still practical.
Style Tips for Red Leather Pants
a) Check the Quality
Various qualities are available in leather. Consider comfort, appearance, and durability while shopping. For instance, Nappa leather are more lasting, and have smooth texture than its peers. Hence, it's well worth the investment.
b) Make Sure the Pant has the Right Fit
Measure your body and look for custom-fitted leather pants. Too tight or too loose pants can cause discomfort.
c) Careful of the Shade
Ranging from light to dark, different shades are also available in red. Consider the month while choosing. For instance, bright red shades are recommended for spring and summer months. Likewise, fall and winter months are good for wearing dark shades.  
Related Articles