Wearing hoodies under blazers ensure comfort and give you a relaxed and effortless look. We know hoodies and blazers fall under completely different sartorial categories. But, that doesn't mean you can't pull them off together. If this trend would have evolved few years ago, people would have considered it as a street style wear. However, this combination now have become a mainstream look, with many celebs opting for it.
This fashion trend is becoming popular gradually. The more you learn how to wear hoodies under blazers, the more you'll love it. Both these sartorial are pretty common. Most likely, you have both of them in your wardrobes. Hope, you already know how to wear hoodies with style. And, the same goes for blazers too. Now, it's the time to wear these two together. In this blog, we have provided a complete guide on this. Scroll down.
From Where the Style of Wearing Hoodies Under Blazers Has Evolved?
It's really difficult to trace the actual origin of emergence of wearing hoodies under blazers. As far as people can remember, this style started somewhere in the late 1990s. Many prep schools have strict dress codes. The students had to wear shirts, tie, blazers, dress shoes, etc. When the mercury falls even more, students used to cover the shirts with their sweater. Later, many students replace their sweaters with a hooded sweatshirt. This gave rise to the signature style of wearing hoodies under blazers.  
Can You Wear Hoodies Under Blazers?
Almost any hooded sweatshirt will fit under a blazer. This relaxed leisurewear will help to stay comfortable all day long. For the ease of styling, this combination has become a fashion trend. Plus, you can easily dress it up or down by trying different pants and adding more layers.
Celebrities Wearing Hoodies Under Blazers
Celebrities have rocked this outfit many times. Some of those celebrities included in the list are:
a) Russell Westbrook
b) Chris Paul
c) LeBron James
d) Kevin Durant
e) Stephen Curry
f) Kyrie Irving
How to Wear Hoodies Under Blazers?
1. With a Beanie and Chinos
Image: Source
Beanies can change a look quickly and effectively. For that, knowing how to style with beanies is crucial. Chinos, on the other hand, can give you a relaxed and casual look. Pair a light colored hoodie like off-white, light yellow or orange under a brown blazer to reflect your laid back attitude for the day. Switch up the outfit instantly with olive chinos and a pair of black leather loafers.
2. Matching Colors and Contrasting Bottom
Image: Source
Choose this outfit for a more masculine refinement. If you're ready to break the layering rule of 'light inside, dark outside', this combination is for you. Wearing the same colors for the blazer and the hoodie can give you a more formal look, hiding the casualness of a hoodie. However, you should have the confidence to put together such an outfit. If you don't like a monochrome look, balance the outfit by wearing a contrasting color jeans.
3. With a Suit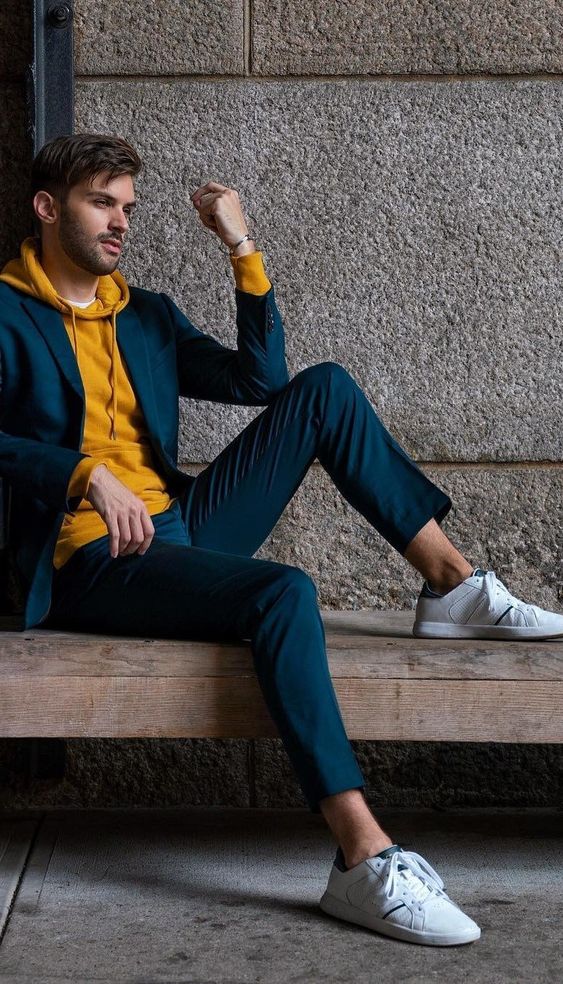 Image: Source
A very well executed color combination. Do you think you can't wear hoodies to the office? Not any longer. This combination can make you appear professional. The bold color contrasting is perfect for a day to night transition. You can also try this getup to hang out with your friends at a pub. But, if you're planning to carry on this look for your office, replace the sneaker with loafers or suede shoes.
4. A Tee Underneath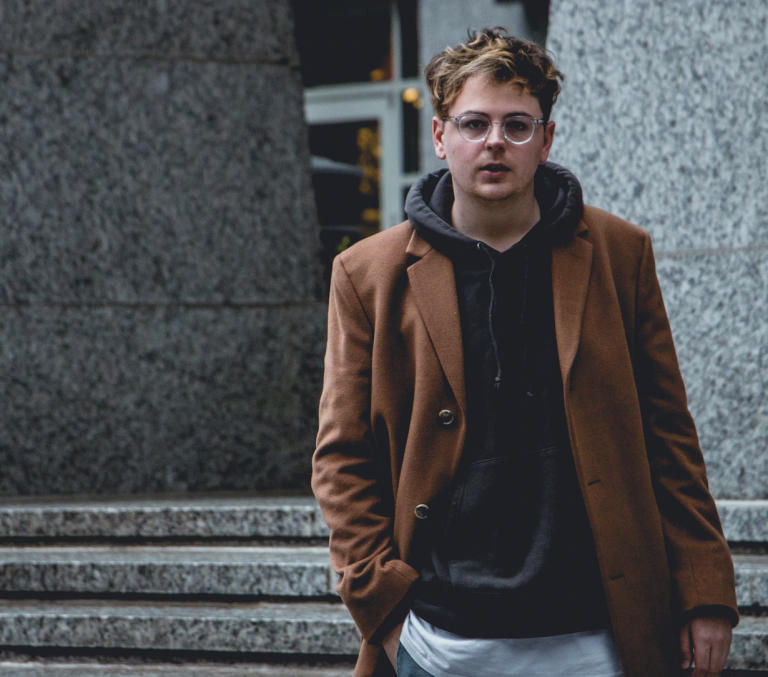 Image: Source
A tee shirt under a hoodie and blazer may not be ideal. Choose a well-fitted tee to not to look sloppy. Also, make sure the tee is not getting exposed from under the hoodie. Here, the length of the tee is very important. If it's too lengthy, tuck in the tee. Wear a light colored tee, medium shade hoodie, with a dark blazer. As the look is baggy and full, you have to choose a well-structured bottom.
5. With a Shirt and a Vest
Image: Source
Bring more sophistication to casual fashion arsenal with this outfit idea. Choose vest, blazer, and hoodie of the same shade. Any guy can try this combination of grey blazer and blue shirt as this can have a great modern appeal. To make the whole look come together, introduce a pair of leather brogues to the equation. This outfit has a strong professional appeal and you can wear them even to office meetings. However, overweight guys should avoid this outfit as it has too many layers.
6. With a Grey Plaid Wool Blazer
Image: Source
If you want to look dapper in a flash, consider this outfit. A plaid wool blazer, when worn with a hoodie will create a laidback vibe. This outfit is recommended for days you want to spend relaxing. To earn the proper amount of attention, choose navy dress pants or chinos. Team this laid back look together with a pair of tan leather high top sneakers.
7. With an Olive Dress Pant
Image: Source
No doubt, grey and olive is an excellent combination. For any modern gentleman, wearing grey blazer with beige hoodie and olive dress pant can be a polished ensemble. This can be your effortless and comfortable getup to spend a whole day in the office. Wearing a white shirt underneath is recommended. Throw a pair of black leather double monks to add classiness to your overall look.
8. With a Navy Blue Suede Blazer
Image: Source
As you know, very few things are cooler than a suede blazer. For this reason, the fashion of suede blazer is going to stay in the near future. You can easily dress it up or down as per your mood or the event type. Pick a classic camel hoodie, selvedge denim or blue pants, and sneakers for a casual take. However, if sleek is the look you want, replace the sneakers with Chelsea brown leathered boots.
9. With a Long Blazer and Ripped Jeans
Image: Source
Yes, here we're talking about a casual long blazer. The blazer should have an unstructured design and should compose of lightweight materials like linen to create a relaxed aesthetic. Such a relaxed aesthetic will match perfectly with a pair of ripped jeans. Go for a ripped jeans that come in a vintage wash. Don't wear jeans having too many shreds or holes, as it will work against you. Finish off the look with a baseball cap.
10. Layer Up With a Brown Overcoat
Image: Source
Sharp but a simple outfit. A light blue dress shirt, a grey hoodie, a charcoal plaid wool blazer, a brown overcoat, white chinos, and navy tie, that's all you need to try this getup. You can instantly play down this outfit with a single item – a pair of white and navy athletic shoes. Such a pair of shoes can easily infuse a more relaxed vibe into this getup. Also, adding white chinos to your current wardrobe will breathe effortless elegance to it.
Style Tips for Wearing Hoodies Under Blazers
1. The hoodie and the blazer should be of different colors. Going matchy here can make the overall look dull.
2. Avoid wearing too many layers. Stick to a maximum of three. However, some of the above-mentioned outfits have more than three layers. But it's rare.
3. Be careful of the blazer's fabric. Make sure it's composed of lightweight materials to ensure comfort.
4. Wear a more fitting hoodie to look smart.
5. Choose the shoes and other accessories carefully. Don't over-accessorize. A sunglass, and a cap are more than enough.
6. Stay away from hoodies with prints, embroidery, or having cartoons. Keep it simple.