Movies like E.T., Star Wars, and Avatar have always made us feel there exists life on other planets too. We call those creatures as aliens. These movies have sparked our imagination and creativity so much that we have brought these aliens into our world of tattoos too. In fact, alien tattoos have become so popular that even the celebs like Lil Debbie, Koto, and many others proudly flaunt them on their body canvas.
If you have a love for the extra-terrestrial world, then alien tattoos are for you. These tattoos can make you look distinct and you can customize them according to your likes. Sarcastic and funny aliens can depict the freakish side of your personality.
From cute aliens to spaceships to UFOs, alien tattoo ideas have endless possibilities. Generally, neon green, blue, and silver shades are used but you can pick colors of your choice as there's no such fixed rule.
To give you ideas, we've created a list of outstanding alien tattoos. But, before proceeding, let's see what alien tattoos actually mean.
What Does An Alien Tattoo Mean?
There's no specific meaning behind getting alien tattoos. They just represent your love for the galactic or sci-fi world. So, you can give whatever message you want through the alien tattoo designs. Usually, alien tattoos are worn as decorative tattoos or to symbolize one's appreciation for a specific character or a movie.
Even though clients haven't been conclusively proven, there's no harm in expressing your curiosity! These tattoos are available in different sizes. Moreover, you can have them on any part of your body.
Hopefully, you will get inspiration for your next tattoo from this curated list. Let's start scrolling down.
List of the Best Alien Tattoos
---
Alien Head Tattoos
---
Alien head tattoos are eye-catching but scary. If you're an adventure lover, these kinds of tattoos may be the perfect pick for you. They may represent someone that has an appreciation for science and research of these creatures.
The alien head tattoo had become an icon of American pop culture, which originated in the 1950s throughout the time of the Area 51 incident. 
---
1. Alien Head Tattoo on Finger
---
Image: Source
This tiny alien head tattoo looks cute with big black hollow eyes. No color is used here except black ink to keep the design simple. This tattoo is for those who love the simplicity yet imagine quirky and fantasy things. This tattoo can be easily crafted and inked without issues as there are no intricacies involved while designing the same.
---
2. Green Alien Head Tattoo
---
Image: Source
The big green head alien has bulging eyes. Consider this if you're looking for alien hand tattoos. This is a cute green alien head tattoo done on the upper arm. The tattoo is pointing a finger at the seer as if it is a warning that 'Don't mess with me." A combination of yellow and green shades has given this tattoo a more realistic effect.
---
3. Alien Head Tattoo Small
---
Image: Source
This blue small alien head tattoo looks cute. It is drawn just below the elbow and can be a good option for those who want to show the funny side of their personality. The blue hue makes the tattoo looks more like a water bubble.
---
4. Split Face Alien Head
---
Image: Source
This tattoo reflects pure fantasy and it will need skilled hands to look this amazing in real life. The split face stands for betrayal and deceptiveness. It looks unique and scary. The use of various hues especially shades of blue, purple, and brown has taken this tattoo to the next level.
---
5. Flowers on the Head
---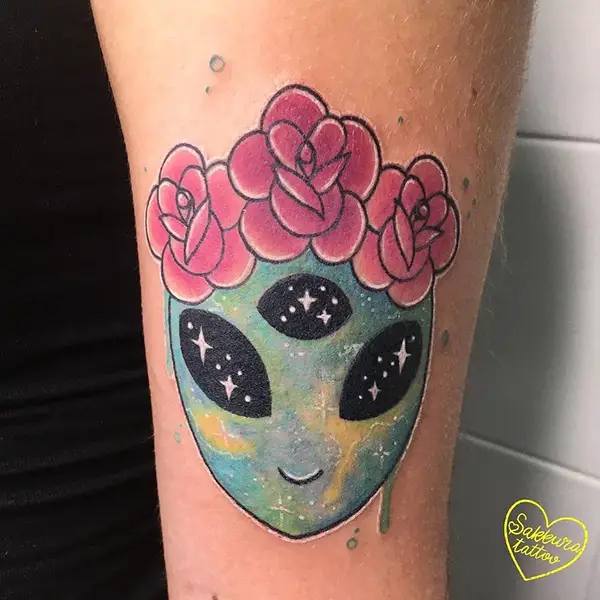 Image: Source
All alien skull tattoos don't have to be monotonous. Some can be colorful and reflect your happy and peaceful mind like this one. Get a twist with this colorful alien, having flowers on its head and eyes showing stars in the universe.
---
6. Mayan Warrior Alien Tattoo
---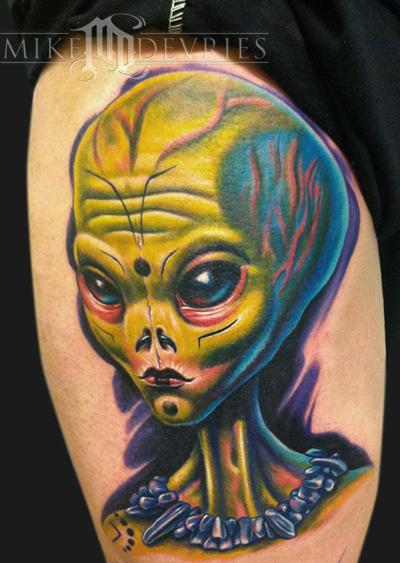 Image: Source
Remind me of the alien in Extra-Terrestrial, E.T. movie. The veins, bones, and the big head are drawing attention here. Blue shades are used in the background to depict the unending universe and the unknown worlds.
---
7. Masonic Eye Alien Head
---
Image: Source
This is one of the simple alien head tattoo designs. The All-Seeing Eye image in the head of the alien represents the omnipresent eye of god watching over humankind. This Eye is mainly used in masonic tattoos. When it is used with the caption 'I Believe', it may stand for the belief that the alien is watching everything from another planet.
---
8. A Slice of Cosmic Pizza
---
Image: Source
Love pizzas? Show your love for pizza and the sci-fi zone by painting four alien heads on a slice of pizza. The black background having stars is representing the night sky. And, the red dripping outline creates a kind of spooky feeling.
---
9. Fiery Head Alien Tattoo
---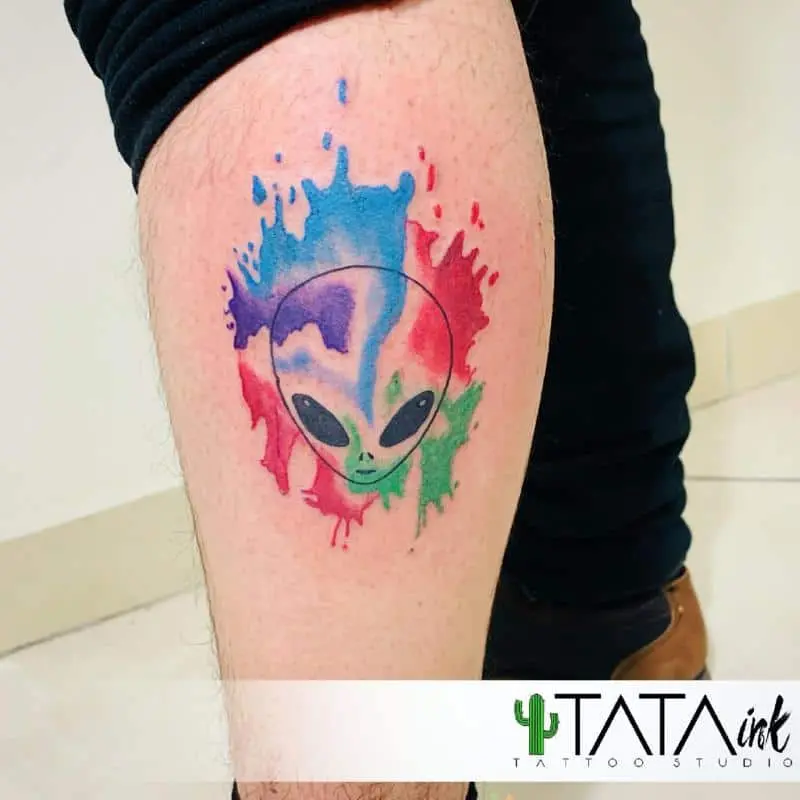 Image: Source
The flames of fire drawn in different colors depict intense emotions. You can easily see the alien head is drawn simply but the colorful fire-like flames make it extraordinary. It's a simple alien tattoo, which you can get from any tattoo center near you.
---
10. Alien Head in Spaceship Light
---
Image: Source
Done completely in black ink, this alien abduction tattoo seems to be big enough to cover from the elbow to the wrist.
---
11. Alien Head With Mandala
---
Image: Source
---
12. Smoking Alien Head Tattoo
---
Image: Source
UFO Alien Tattoos
Alien UFO-related tattoos are seen as very rare. If you extremely love the idea of life in outer space, you may consider UFO alien tattoos. UFO's meaning isn't universal – everyone has different interpretations and beliefs based on the image. The most obvious symbolism found in UFO tattoos comes from references to well-known movies and novels. True sci-fi fans often love to show off their love for their favorite works of fiction.
These tattoos can be a reminder of how small we are and how little we know about the space around us.
---
13. Half-Moon UFO Tattoo
---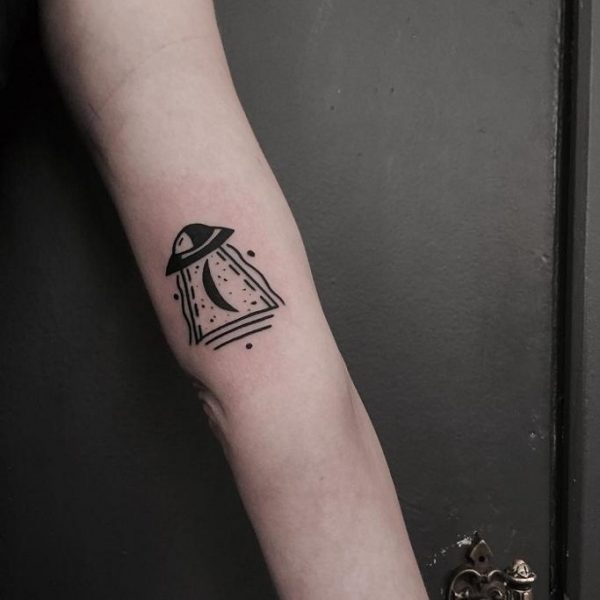 Image: Source
Cute, small, and simple. The UFO tattoo, shown here, is emitting rays. A half-moon is there in the middle along with the stars. This tattoo is showing that the UFO is there in the night sky.
---
14. Two Aliens and UFO
---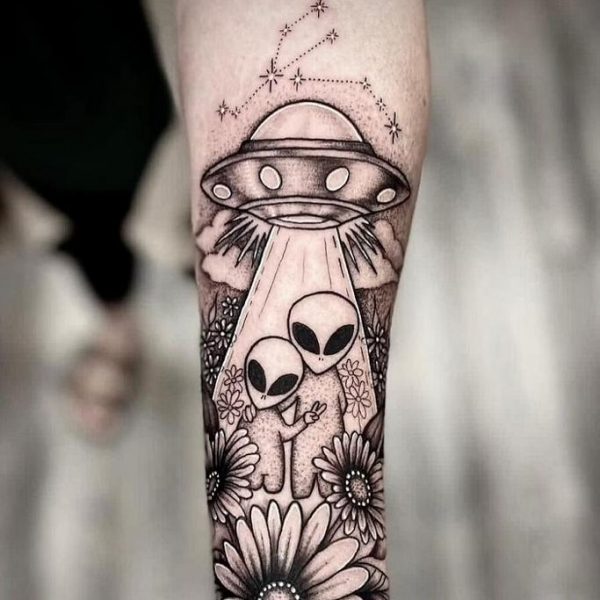 Image: Source
Two cute aliens are standing under the UFO as if they have just landed on Earth. The beautiful flowers and the stars above the UFO are enhancing the beauty of the tattoo.
---
15. Stay Weird
---
Image: Source
Alien telling you to stay weird! If you love a tattoo that gives you a chuckle, the cow abduction in the back is a nice touch.
---
16. Geometric UFO Tattoo
---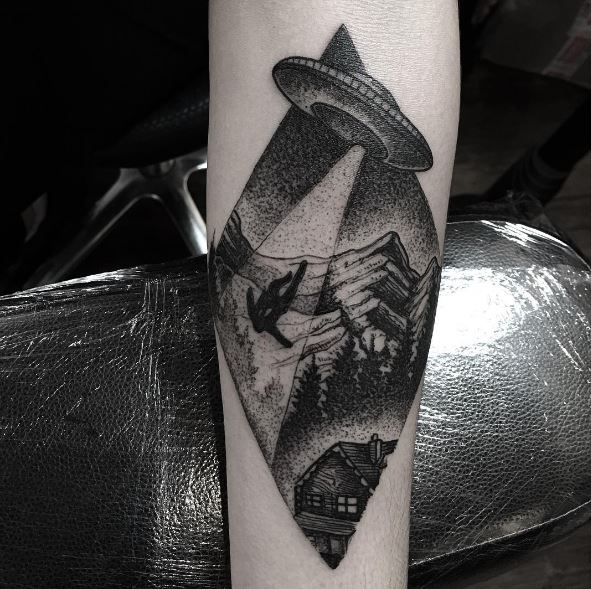 Image: Source
Done with black ink to create seriousness. Maths is the language of the universe. The UFO is shown against the backdrop of a geometric diamond shape. You can also add geometric symbols to the tattoo.
---
17. Alien Holding Planets with UFO Above His Head
---
Image: Source
The alien holding and surrounded by planets has a peaceful face. Above its head, there's a UFO, which is throwing light. The whole picture of the tattoo reminds us of the Enlightened Buddha, who is giving the message of peace.
---
18. Dotwork Alien UFO
---
Image: Source
A cute alien sitting inside the UFO looks great and is preferred by those who love adventure acts yet are cool. The whole alien tattoo design is done using only black ink and is creating a realistic form. A bull silhouette under the rays of a UFO is done with precision.
---
19. Neon UFO and Alien
---
Image: Source
Neon colors like neon blue, orange, and green have been used to create a brightening effect. This bright tattoo will look great tattoo on your forearm. If you love bright aliens, this UFO alien tattoo idea is for you.
---
20. Designed Border UFO Tattoo
---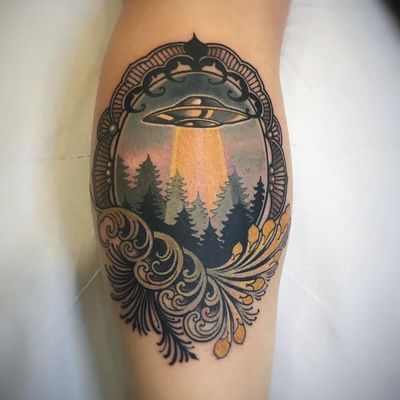 Image: Source
In this alien tattoo design, one can see a flying saucer, which is about to be landed on earth. And, this is pretty common when it comes to UFO tattoos. What has added to the uniqueness of the tattoo is its designed border. The border has an intricate design and is especially recommended for those who love the artwork.
---
21. Beam Me Up
---
Image: Source
Yellow, red, and green colors are used to create a dramatic yet realistic effect. Consider this tattoo when you need a boost, or suffering from mental anxiety.
---
22. UFO Showering Lights
---
Image: Source
Another minimalistic UFO tattoo design.  It features the meekest spaceship sketch, and several vertical lines to symbolize the light that typically comes out from these ships.
3D Alien Tattoos
3D alien tattoos create a realistic effect. Sometimes, these are cute alien tattoos, and sometimes spooky. Most of them are inked black as black inked tattoos last for a long time. Below, we've shared some 3D alien tattoos which are unique.
---
23. Alien Tattoos on Upper Back
---
Image: Source
---
24. Alien Tattoo With Horns
---
Image: Source
---
25. Aliens Peeping Through Doors
---
Image: Source
---
26. UFO On Pyramid
---
Image: Source
---
27. Unique 3D Alien Tattoo
---
Image: Source