The fashion rules are made to be a break. The hard and fast rules of wearing formal dress at the workplace are going down gradually. In fact, those times are not so far from when you would be completely allowed to wear jeans and casual T-shirts at the workplace. Just like gradually, more and more sneakers are hitting the red carpet rather than high heels, the jeans are becoming a part of formal clothing in the office. Jeans are gradually becoming an appropriate part of formal clothing you can wear in your office, but there are specific ways to wear jeans to make them look professional. In this blog, we have shared some tips regarding how to wear jeans to work.
Nowadays, most companies and workplaces have put a restriction on wearing no casual clothing in the workplace, which has led employees to wear formal dress pants all the time. But now you can quickly wear jeans at the workplace without worrying about the violation of rules or dress code.
One of the most significant advantages of wearing jeans in a business environment is that you can easily switch to your leisure activities after work without needing to head home to change your outfit. You can't just go on and wear jeans at office work, but there are some ways by which you can turn formal denim jeans into office wear by wearing them with particular colors and little mixing and matching.
How To Wear Denim Jeans at Office and Still Look Professional
There are multiple ways you can be creative with your 9-5 looks, and we are highlighting some of the best ways to add jeans to your office clothing line. We have gathered some of the styles that will not only go fit according to your body shape but also, it'll tick all the boxes from your office dress code. So, are you ready to switch from an everyday basic dress pantsuit to semi-formal jeans look combo?
Let's dive in.
First things first, here are the basic do's and don'ts you should follow when you are wearing jeans at work.
---
Basic Rules for Wearing Jeans in the Workplace
---
Rule #1: If you wear jeans in the workplace, the first thing you should never miss is wearing fitted jeans. Always ensure that the jeans you wear shouldn't be either too fit or too loose. Obviously, wearing baggy jeans or dad jeans would make you too obvious to get noticed for not wearing them according to the dress code. So, you should always opt to wear the right fit according to your body. To get an item of clothing right on your demand, you need to connect with a quality clothing manufacturer. In this case, you can connect with Zega Apparel as they can perfectly keep and understand your demands and requirements & fulfill them.
Rule #2: To make a wholesome outfit, you can try fitted skin-fit jeans along with the blazer to give a finishing look to your outfit.
Rule #3: Never wear ripped or distressed jeans, as they're not appropriate for office work.
Rule #4: If you want a professional look, you can choose a jean with a darker shade.
Rule #5: Try to have a minimalistic look with different combinations of T-shirts, shirts, or formal clothing.
Rule #6: Also, your hairstyle is an essential factor to consider too. Whether male or female, you should always try out different hairstyles that suit your personality and your office work environment.
Tips for Wearing Jeans at Office
---
Wearing Jeans With a Darker Shade
---
Image: Source
Jean with a darker shade is considered standard jeans that are usually allowed in the office environment, as it reflects a more professional look. Light-colored denim jeans reflect a casual look that is not suitable for wearing in the office environment.
You can choose denim jeans to look from darker blue hues and darker black hues to get a professional look.
---
Keep it Clean
---
Denim and jeans are clothing lines that quickly catch dirt and dust because of their absorption quality. So, the best you can do is to ensure that your clothing line is clean and free of dust and stains.
Distressed and shredded jeans don't reflect a professional look in an office. So, unless you work in a highly creative company or fashion firm, you must take notes on what type of clothes you should wear in an office environment.
Moreover, if your office environment is not strict with the dress code, you can also try wearing a pair of jeans which gives a similar look to jeans and pants and offers the comfort features of trousers.
---
Top Your Jean with a Matching Blazer or Shirt
---
Image: Source
When you are all set with your jeans selection, you need top quality and a professional-looking t-shirt or blazer to top off your jeans look. You don't always need to wear the same plain t0shirt or blazer to carry the professional look. Obviously, you can mix, match and try different combinations that look good on you and reflect the professional look simultaneously.
It depends on how much flexibility you have in your office. You can try different looks and color combinations that look unique and acceptable in an office environment. 
---
Don't Forget the Shoes
---
Image: Source
How can we forget the shoes? Generally, the shoes are worn at the bottom, but it plays a cherry on the top role when it comes to clothing. Your shoes are one of those things that people notice very first. They may add elegance to any outfit. Every man must have formal shoes in their collection. They appear slick, fashionable, and stylish. Without much effort, they may instantly make you look wealthy or elegant.
It's your shoes that can play an integral role in pulling the professional look to your overall clothing. You can top your whole outfit with professional-looking shoes, flats, or heels.   
---
Custom Fitted Clothes
---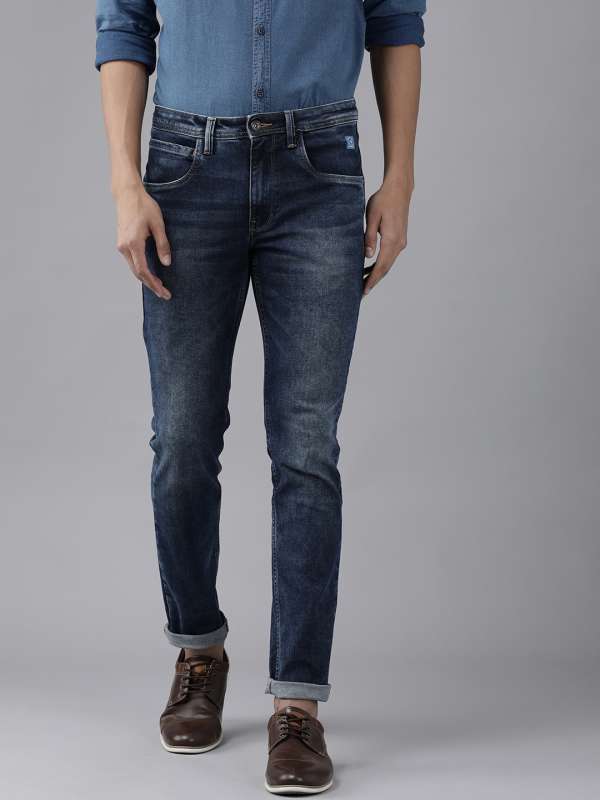 Image: Source
You can go for custom-fitting clothes that matched exactly your body type and fit well over your body. Even if you are wearing a pair of trouser jeans to your office, you should make sure that it should be well fit not too loose or not too fit.
Or you are also opting for flexible options like printed or colored trousers or jeans if you have flexibility in your working environment.
---
Cropped Pants
---
Remember this point if you want to know how to wear jeans to work.
When picking up a pair of jeans to wear, make sure it's not too fit for your fit, although they should be stretchable enough to provide you with comfort throughout the day. If you are more of a person who likes to like cropped pants, then you can opt to wear a darker and plain blouse, blazer, or T-shirt with it.
Nowadays, there are a number of ways to choices when it comes to men's jeans clothing. There is a number of options for men when it comes to jeans for men like a number of layers, patterns, and finishing that you can choose from. You can have all these extras in your jeans if your workplace allows it. Normally, you should follow the standard approach when wearing cropped jeans in the office.
---
Best Match with Bright Color Bottoms
---
If you are wardrobe is full of bright colors, jeans, or bottoms like purple, maroon, and white then you will have to leave funky-colored blouses, and t-shirts because that might exploit your overall look. Instead, you can opt to wear a dark color shirt, blouse, or a blazer with it, or you can top it off by adding a coat whose color is similar to your bottom.
Such clothing is the best option when you are wearing bright bottoms.
---
Adding a Coat to Your Outfit
---
Image: Source
To give a more professional look and avoid getting noticed if you wear a jean in the workplace, you can wear a coat. You can adopt a celebrity look in your office by adding skin to your overall clothes. Make sure you pick up a coat having the same or similar color to your bottom. This will reflect an enchanting look with darker shade jeans and give a complete look to your whole attire.
The Bottom Line
So, here are some of the legit ways on how to wear jeans to work and still look professional. Out of all, an essential thing you need to ensure is that the fitting of your jeans is an important factor that can make or break the way you look. Dad jeans are not a good option when it comes to office dressing.
In the end, it comes all comes down to whether your company allows you to wear such clothing or not, depending on the dress code policy in your office. But with the ways we have mentioned above, you wear jeans in the workplace with the right clothes combination, and your outfit will look acceptable.