Short hairstyles become extra trending when you enhance their appeal with colors. Whether you want highlights or streaks or a full-of head color, you're flooded with choices. Great hair color can make your hair pop and give you a celebrity look. If you're confused about which shade to try, have a look at our picks for short hair color ideas.
To get the most enviable short hair colors, your colorist should work strategically. Consider your skin tone while choosing the color. Shadow roots, babylights, lowlights, and highlights can be the ways to bring your chopped strands into a highlight. Ahead, you'll get many more short hair color ideas to inspire you for the next salon visit.
Short Hair Color Ideas
---
1. Stunning Purple
---
Image: Source
Short-haired girls can experiment with fun colors like purple. Create a pop and steal the show with this stunning hair color. Lilac, lavender, or violet – all these shades of purple can make you feel and look bold. Some the celebs like Kylie Jenner, Lana Condor, and Nicki Minaj have also dyed their hair purple once in their lifetime to make the shade a serious hairstyle.
Go for a violet tint if you want to keep it dark. This shade can create a striking transformation without being overly dramatic.
Here're some short purple hairstyles for you to consider.
a) Peek-a-Boo purple under layers
b) Silver purple hair highlights
c) Dark purple on a smooth geometric haircut
---
2. Spicy Lowlights and Beige Highlights
---
Image: Source
Undoubtedly, this is the most fun way to spice up your dull hair. Sexy and sassy, combining these two techniques can help you showcase two different haircuts. This hair color for short hair look amazing on jagged and layered edges. Such a combination will allow you to add either brown or beige to the natural base color while not risking making any in-your-face statements.
---
3. Balayage Highlights for Short Hair
---
Image: Source
Balayage highlights can dimension and depth to your cropped locks than ombre hair colors. In fact, they look better on shorter lengths as compared to long hair. Consult your colorist regarding which highlight will suit your skin tone. Here, the expertise level of your colorist is crucial because it involves hand-painted highlights.
Whether you have straight or curly short hair, you can consider these balayage highlights.
a) Short bob grey dimensional balayage
b) Long bob balayage highlights
c) Mahogony brown balayage for short hair
---
4. Ginger Hair Color for Short Hair
---
Image: Source
Fierce and feisty, the ginger hues are as glamorous for short hair as ever. If you want to jump on the redhead bandwagon but want a natural-looking shade at the same time, ginger could be a good choice for you to consider.
For light and pale-skinned women, a dark ginger shade can be a great choice.
Choose a shade darker than the ginger shade you want to get. Avoid washing your hair for 2 days after coloring. Always use cold water to wash your hair.
Fashiondrips Tips
Choose a shade darker than the ginger shade you want to get. Avoid washing your hair for 2 days after coloring. Always use cold water to wash your hair.
---
5. Burgundy and Copper Mix
---
Image: Source
Copper is a super-rich tone, which is the bubblier sister to burgundy. Hence, you can definitely combine burgundy with copper. Create a 50-50 short hair color look. Color one side burgundy and the other side copper to get the shades noticed separately. Don't mix these two shades. Create a side or middle parting depending on how you have sectioned your hair for coloring.
---
6. Short Red Hair
---
Image: Source
When it comes to coloring your hair in red, the flattering shades can confuse you. If you have medium to skin tones, go for auburn or bright red. On the other hand, strawberry and ginger are the best options for women with fair complexions.
Red is the hue, which forms a perfect pair with short hair. It can make you look insta-worthy instantly. Here're some of the short hair color ideas to try with a red hue.
---
7. Burgundy Short Hair Color
---
Image: Source
As burgundy is a dark shade, this is awesome hair color for short hair. You can either have burgundy highlights or mix burgundy with a purple hue to give more texture to your beautiful short hair. The color melts through your hair like wine. It is the color you can wear all year long.
If you're a person with pink, ebony, and olive skin tones, pick cooler burgundy shades. Likewise, women with peachy or golden skin tones should opt for warmer burgundy shades.
Dark maroon burgundy hair can be a great choice if you want to create a lowlight and highlight effect on your hair.
Some of the burgundy short hairstyles are:
a) Burgundy and plum undercut
b) Burgundy highlights on short brown hair
c) Burgundy lowlights on short textured waves
Fashiondrips Tips
The Burgundy color isn't easy to remove. Therefore, make sure whether you want to dye your hair with this hue beforehand. After wearing the burgundy shade for some time, if you decide to try some other color, put yourself back in your stylist's hands. Proper burgundy color removing techniques should be used to apply your desired color and get the best result.
---
8. Silver Highlights on A-Line Bob
---
Image: Source
Couple silver highlights with an A-line bob to get a trending hairstyle. Whether you have neutral or cool skin tones, this color is perfect for anyone. Plus, this hair color requires little to no upkeep. Hence, you can get a super easy look with very little effort.
Take into account your eyes and skin color to pick the right shade of silver. For instance, women with olive skin having yellow undertones and blue eyes can definitely go for a silver hair look.
If you're confused about which silver color will suit which short haircut, here are some inspo for you.
a) Curly Silver Mess: Silver with dark blue highlights
b) Sleek Silver Pixie: Ashy and greyish shade of silver
c) Silver Angular Fringe: Creamy silver shade
---
9. Blue Hair Color Ideas for Short Hair
---
Short blue hairstyles flatter all face shapes. The blue color also lasts long. Furthermore, you'll get endless options in blue shades starting from icy blue to electric blue.
Blue shades appear best on lightened natural base. Therefore, lift your hair before applying your selected hue. Now, apply the blue shade to your pre-lightened locks. Wait for the color to develop. Then, wash it out with colored protection shampoo.
Check our list of short blue hair color ideas.
a) Muted navy blue bob haircut
b) Electric blue on pixie haircut
c) Cool blue mixed with black and silver
---
10. Yellow Hair Color Idea for Short Hair
---
Image: Source
Bright and bold, yellow is the hue that is becoming increasingly popular on social media. Yellow is the sunnier shade of blonde. The bright yellow hue is adding a flirty finish to the bangs. We can definitely say yellow is the best short hair color idea for those who don't mind standing out of the crowd.
Compared to other vibrant fashion hues, yellow dye is easier to maintain. A tinted mask or a semi-permanent dye is used to achieve various shades of yellow. If you don't want to get a toned yellow look, pre-lighten your hair for the perfect canvas.
Ahead, we've shared some yellow short hair color ideas you can rock.
a) Yellow streak on golden blonde
b) Fire ombre hair on textured lob
c) Yellow and orange hues to create an iced lemonade look
---
11. Soft Pop of Pink
---
Image: Source
Step up your hair game on a whole new level with this soft pop of pink hairstyle. Pink hair brings out your inner confidence and highlights your feminine features. Rock this pink hair look and turn the heads. 
If you love the muted shades of pink, opt for rose gold, pastel pink, cotton candy, and bubblegum. Kaia Gerber, Demi Lovato, Gigi Hadid, a slew of celebrities have tried different pink hues.
Check out these styles for the best pink hair color ideas.
a) Rose pink pixie hair
b) Light pink with brown roots
c) Bubblegum pink on bob hair with bangs
Fashiondrips Tips
Women having cool undertones should opt for pink with purple or blue undertones. Lavender, rosy pink, and magentas are best for them. If you have warm undertones, look for pink shades having yellow and orange undertones. For example, you can choose peachy pink, corals, and nude pink shades.
---
12. Steel Dark Blue
---
Image: Source
A highly stunning metallic shade. The dark steel blue color is a combination of blue and black tones. Whatever your skin complexion is, the dark steel blue color flatters everyone.
This is the color for you if you have a layered bob cut. Plus, you don't have to give time and effort to styling your hair as the color will speak for itself.
Some of the dark steel blue colors to consider are:
a) Black midnight blue
b) Blue-black bob
c) Layered bob style
---
13. Chocolate Salted Caramel for Short Hair
---
Image: Source
When you want a transition from light to dark hue or vice versa, caramel highlights can exceed all your expectations. Caramel balayage, ombre, and highlights choose any technique to get chocolate salted hair.
The amazing blend of colors in this short hairstyle has drawn our attention so much that we couldn't miss including it here. From mid-length to short hair, this combination will suit everyone.
---
14. Mint Green for Short Hair
---
Image: Source
Pair mint with a cool platinum shade for a fresh and funky hairstyle. However, we'll recommend this combination only for those who are ready to make a statement with their short hair. As soon as you wear this color, you'll feel much more confident and brave.
If you already have platinum hair, no need to bleach it. If you have medium to dark hair, you may need to bleach it a few times before you can dye it mint.
Avoid using green dye if it already has lots of yellow in it. Otherwise, it will come out green instead of mint. Dye your hair blue.
Furthermore, avoid dyeing your hair mint green if it has orange or brassy tones. Doing so will color your hair blue.
---
15. Rainbow on Short Hair
---
Image: Source
Feast your eyes on rainbow bangs. If you want to try out a bold new short hair color, without doing a complete dye job, rainbow bangs can be an interesting option for you. In fact, it is a fun colored short hair.
Dipping your hair in rainbow pastel colors is indeed fun. No doubt, the curtain bangs are adding to the cuteness.
Whether straight, curly, or wavy hair, every woman can add these pop of colors to get her bangs noticed.
If you're not in your teens, dilute each color with a contrasting color to make them less vibrant. Some of the rainbow hair color ideas for short hair are:
a) Bright shades on grey hair
b) Rainbow fringe
c) Side-swept hair with rainbow colors
---
16. Bleached Flipped Pixie Cut
---
Image: Source
For girls with a pixie cut, you can super-lighten the ends or go platinum. You can also use your own hair color as a low light to create dimensions. Subtle low lights also look excellent with pixie haircuts.
The cut and color combination has been around for decades, and time is only proving just how iconic the style can be.
A bleached pixie cut can make your thin hair look fuller. This short hairstyle works for women of all ages.
Some of the eye-catching bleached pixie cut ideas to show your stylist are:
a) Light bleached pixie bangs
b) Pixie undercut with highlights
c) Platinum blonde highlight on edgy asymmetrical cut.
---
17. Caramel Highlights for Short Hair Color
---
Image: Source
Minimal maintenance and ease of style are the two amazing features of caramel highlights. This is one of those short hair color ideas that are exclusively for girls having pixie cuts. The warm highlights are giving the waves of the cute hairstyle a uniqueness. Are you ready to try?
Fashiondrips Tips
Caramel highlights look great on brunette hair, hazel or brown eyes, and neutral or brown undertones.
---
18. Black and Blonde Combination
---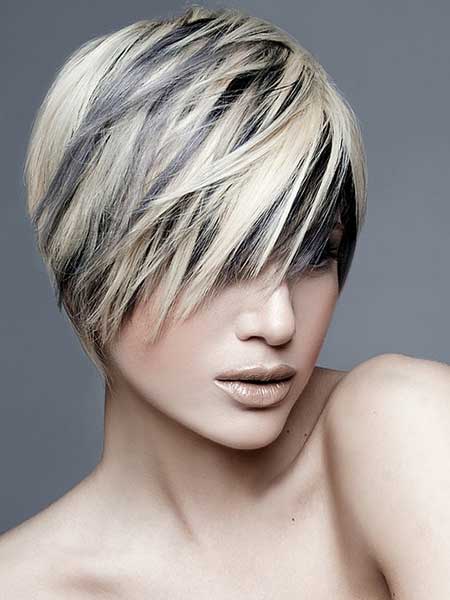 Image: Source
Another hair color idea for short hair is the combination of black and blonde. If you have fine hair and oily skin, the black and blonde combination is perfect for you. Sexy and alluring, this short hair color is easy to manage. Furthermore, it will enhance your overall appearance.
This combination looks especially good on women having black hair.
To give you more inspiration, here're some of the black and blonde short hair color looks you can try.
a) Black blonde ombre bob hairstyle
b) Black blonde fauxhawk
c) Blonde and black flicked bob
---
19. Jet Black
---
Image: Source
Dyed in jet black, short hair looks commanding, sexy, and fully grown-up. Plus, it is the shade that suits all skin tones and ages.
Short black hair is a great way to show off your naturally dark tresses while sporting a fresh, new haircut. 
You can consider the following short black hair color ideas if looking for some inspo.
a) Black tousled wavy bob
b) Edgy pixie on black hair
c) Bob with see-through bangs
---
20. Jelly and Peanut Butter
---
Image: Source
Being one of the viral short hair color trends, the jelly and peanut butter combo has taken its inspiration from a peanut butter and jelly sandwich. If you have a slightly cooler skin tone, go for this combination. This super-dimensional hair color will definitely make others envious.
---
21. Mahogany Hues
---
Image: Source
If you're confused between brown and red hair, mahogany is certainly the way to go. This is not only a luxe-looking shade but is also easy to upkeep.
To maintain the shine of your mahogany short hair, wash your hair less often. Moreover, try to stay away from hair styling tools to make the hair look incredible.
Some of the show-stopping mahogany short hair looks are shared below.
a) Light mahogany hint on layers
b) Dark chocolate and chestnut balayage
c) Mahogany highlights
Fashiondrips Tips
Brown bases and dark chestnut-haired women can consider the mahogany hue. Copper red mahogany shade can give a more natural look to the blondes. However, the mahogany shade suits all complexions from the darkest to the palest skin tones.
---
22. Blue Ombre Tips
---
Image: Source
Take your ash blonde hair to an entirely new level by dying the tips of your hair blue. The pastel blue ends will create a fresh unique solution for your locks. Do you what the best part of such an ombre short hairstyle? It never gets boring.
If you need more inspo for this ombre short hairstyle, we've three other excellent choices for you.
a) Black hair with teal blue ombre tips
b) Platinum blonde bob with blue streaks
c) Denim ombre hair
---
23. Cinnamon Balayage for Short Hair Color Ideas
---
Image: Source
Delicate cinnamon-brown looks great on women having short brown hair. This color will make your eyes shine while adding depth to your hair.
As compared to traditional highlights, it doesn't require much upkeep. Moreover, it can be a stunning addition to enhance your personality.
---
24. Dark Roots with Blonde Lowlights
---
Image: Source
Feminine and delicate. Such a hairstyle will add endless depth. Dark roots are applied down to eye level whereas the rest of the hair will be in a light shade.
This dark root and blonde lowlight coloring technique create a sunkissed gradient effect. It is a super low-maintenance look that instantly brightens up your complexion.
Fashiondrips Tips
Avoid any harsh contrast while matching light hair with dark roots. For instance, never pair jet black roots with platinum blonde hair. Even if you're hellbent to try such a combination, go for the shadow root technique.
---
25. Auburn Lowlights On Dark Brown Hair
---
Image: Source
Lowlights add dimension and texture to your hair. Auburn lowlights on dark brown hair are an amazing combination.
If you're not about all that upkeep, opt for a root that's closer to your natural color so it grows out seamlessly and looks intentional. It lets you wait a little longer between touch-up appointments, saving you time and money.
---
26. Short Haircuts With Blue Highlights
---
Image: Source
Blue highlights go extremely well with black hair. Want a funky style while keeping the look acceptable for your environment? the black and blue combo is pushing the edge but doesn't look like crazy hair.
---
27. Two Tone Short Hair
---
Image: Source
Two tone is to have a color that runs on the bottom of your hair and one that runs on the top. This is a great way for you to blend the two colors. It is like having highlights in your hair that are blended a lot better. Plus, it's low maintenance.
FAQs on Short Hair Color Ideas
a) How often should you color short hair?
Wait for at least 4-6 weeks before going for your next dying job. This waiting period will reduce the risk of hair damage.
b) Is balayage good for short hair?
Balayage highlights look extremely good on short hair. Unlike ombre and highlights, balayage looks more natural and suits all types of short hairstyles. Moreover, it will give your short hair dimension and depth.
c) Can short hair be highlighted?
Highlights on short hair make your hair appear edgy and interesting. Instead of waiting for your short crop to grow out, add highlights to give your hair more texture.
d) When dying short hair, where do you start?
First of all, the middle part your hair. Make four sections from ear to ear. Start by coloring the roots. Comb your hair through the rest of your strands. Once done, create smaller sections at the back. Flip your hair towards the front after applying.
e) How long should you leave hair dye in short hair?
Obviously, dye on short hair dries quicker compared to long hair. Keeping the dye for a long time on your hair can make them damaged and brittle. Generally, we advise people to keep the dye for a maximum of 30 minutes.
f) How much hair dye do I need for short hair?
2oz to 3oz of hair dye is enough for short hair. If you have very thick hair, you may need more hair dye to cover all the hair.