Do you want to give a makeover to your short hair? Are you a crazy follower of the latest hair color trends? If yes, you may have already seen how popular the shades of blue have become. When it comes to blue, there's a shade for everyone, from dark midnight tones to light pastel blues. If you want to make a subtle change, we're about to inspire you with a list of short hair with blue highlights that are gorgeous without being overly dramatic.
But before you proceed, let's see how long do blue highlights last.
How Long Do Blue Highlights Last?
Blue hair highlights are a new fun way to dye your hair. How long the blue highlights will last depends on two basic factors:
a) How often do you wash your hair
b) The quality of your hair wash product
c) The type of dye you're using
If you have your hair highlighted with semi-permanent dye then it will only last for 5 to 7 washes. If your hair is dyed permanently then the color is likely to last for a month and a half. To make your blue hair highlight last longer, avoid washing regularly. Furthermore, use only sulfate-free shampoos.
Short Black Hair With Blue Highlights
Blue highlights can be a great option if you have black tresses and want to spice things up. That's because these highlights can add a major pop to black hair. Whether you're starting with natural or salon-created dark hair, a dark base can always benefit from sparkling blue highlights. 
---
1. Midnight Blue Highlights on Black Hair
---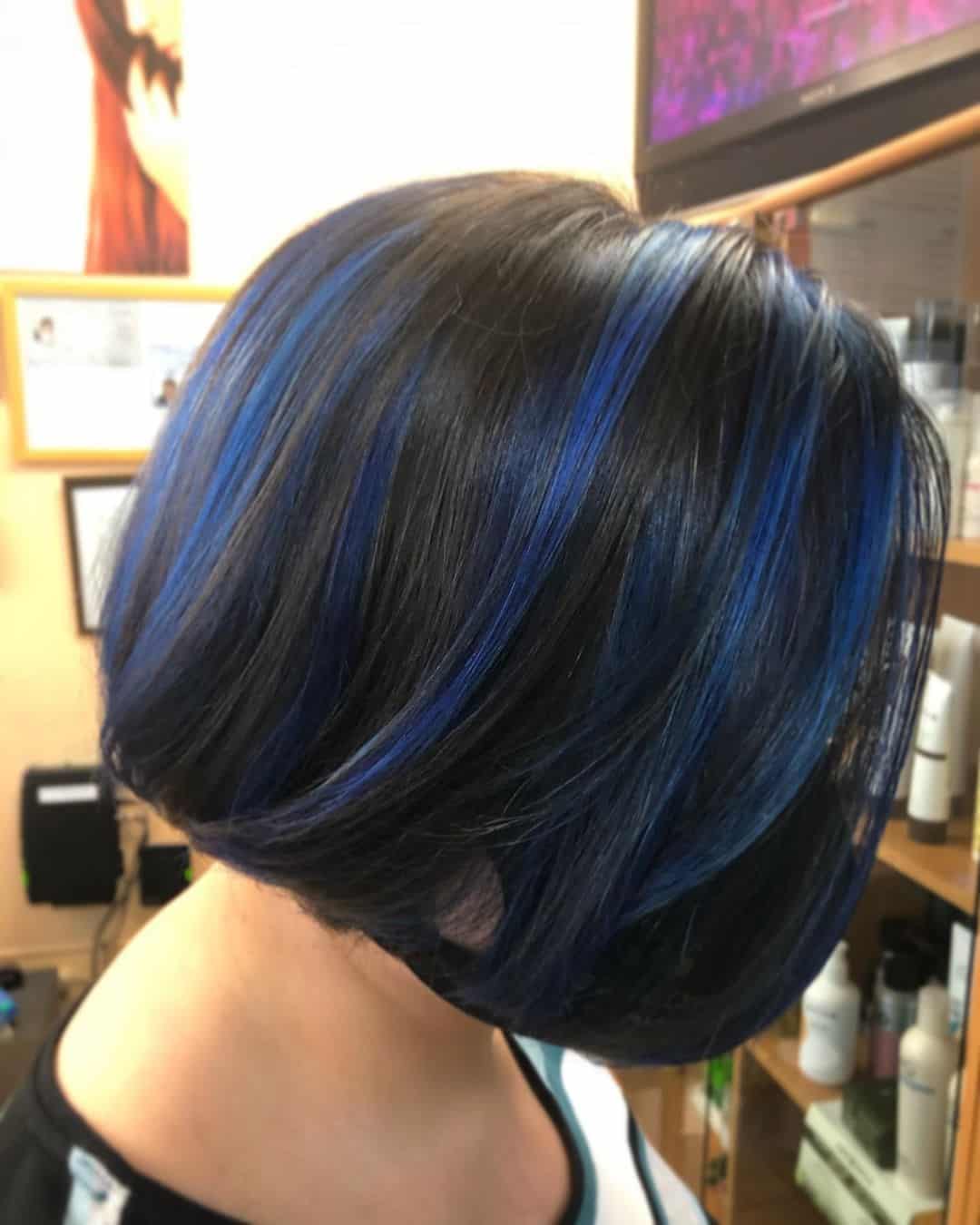 Image: Source
This is one of the classic examples of short blue and black hairstyles. Here, a short defined bob haircut has side-placed blue highlights. This thicker and chunky variant of highlights will look perfect for everyday wear.
Moreover, this midnight shade of blue is a low-maintenance hair color. So, you don't have to spare a lot of time and effort to invest in your look.
---
2. Modern Bob With Teal Blue Highlights
---
Image: Source
Combine your natural black root with some teal shades of blue hair dye. Then wrap it with foils to create interesting panels of color on your short hair. Enhance the beauty of this great touch by adding some more dye of the same shade to your bangs too. Doing so will help you get a low-maintenance short haircut.
---
3. Navy Blue Ends on Black Hair
---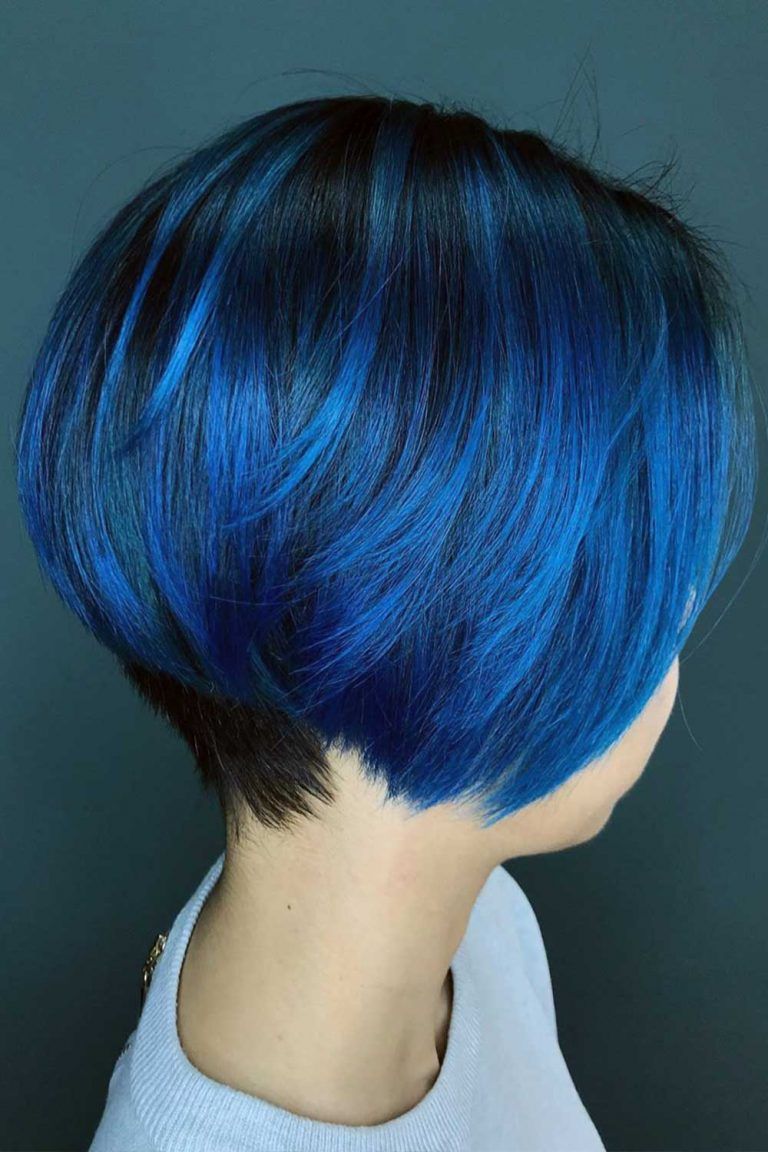 Image: Source
Nothing emphasizes the beauty of black hair more than navy blue highlights. a little touch on the ends moves the basic hair color to a whole new level. Navy blue is a very dark blue hair color that is popular with creative ladies because of its silky and saturated texture. How about making your ends look like pure silk?
---
4. Turquoise Highlights on Black Hair
---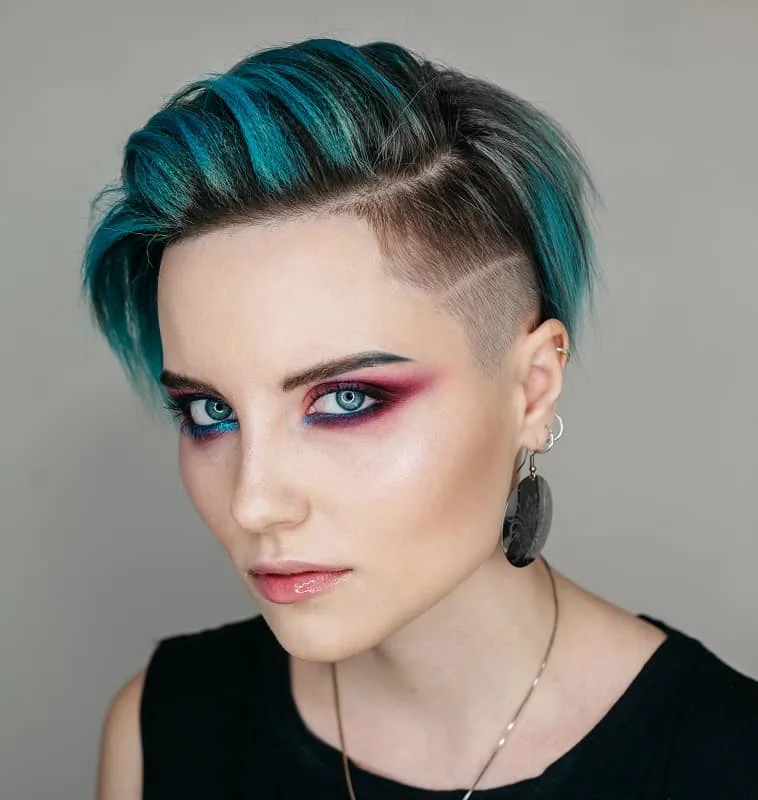 Image: Source
Are you ready to go edgy with your short black hair? Turquoise highlights can be your failsafe bet.
Go for the turquoise highlights especially if you have light and pale skin tones. Apply highlights to the head full of hair and leave the shaved side as it is. This short pixie with a fade is super hot with its turquoise highlights.
---
5. Icy Blue Ombre on Black Hair
---
Image: Source
Whether it's an enchanting sea goddess or an ice queen, blue makes one of the best ombre hair color ideas. The icy blue shade can create an interesting contrast with your naturally dark locks. This icy, light blue shade ​will make them POP! Pairing with waves helps add even more color dimension to your short hair.
---
6. Short Black Hair With Cobalt Blue Highlights
---
Image: Source
A combination of a little bit funky and ultra-feminine style. If you love the bright blue color, then this should be your must-try. This color combination will make your facial features pop. The blue color blends with the dark black color so well that it will enhance your beauty without being overly gorgeous.
---
7. Light Blue Highlights
---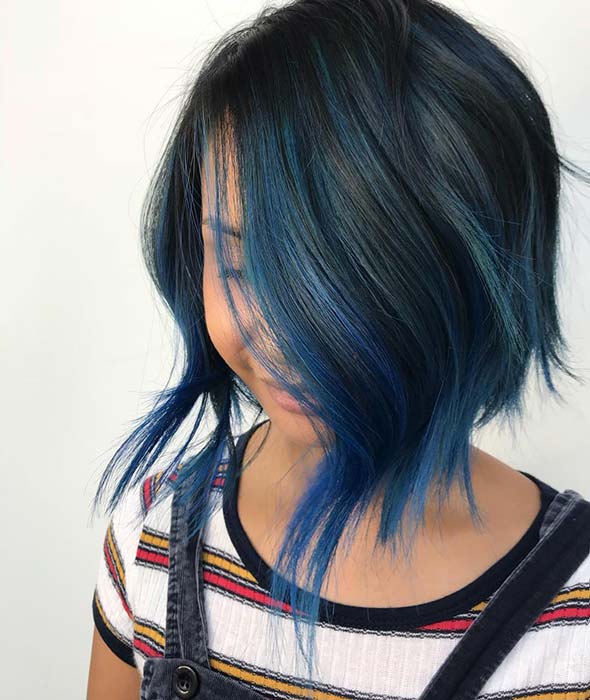 Image: Source
This asymmetrical bob features light blue, black, and gray tones. The combination of different colors has made the hairstyle unique and trendy. You can recreate this or add more blue-black. If you want to go bold, consider this look.
Short Brown Hair With Blue Highlights
Short brown hair with blue highlights is simply amazing. You can style your highlights any way you want including edgy or more demure looks. Blue highlights can add plenty of dimensions and depth to your facial features. Here're some of the ideas you can try.
---
8. Purple Balayage On Short Brown Hair
---
Image: Source
Are you up to trying the frostiest hues of the year? Go for a purple balayage. Pastel blue highlights or purple balayage create a subtle contrast on brown hair, especially if you have light brown hair. The highlights appear at the correct places to make an ombre-like look.
---
9. Midnight Blue Highlights On Short Dark Brown Hair
---
Image: Source
The combination of dark brown and midnight blue can give you a delicate and romantic vibe. This is a great short hairstyle for summer festivals and events. You can even choose this highlight shade to go to the office. When you choose the right shade like this one, it will bring more definition to your hairstyle.
---
10. Dark Blue Highlights On Brown Lob
---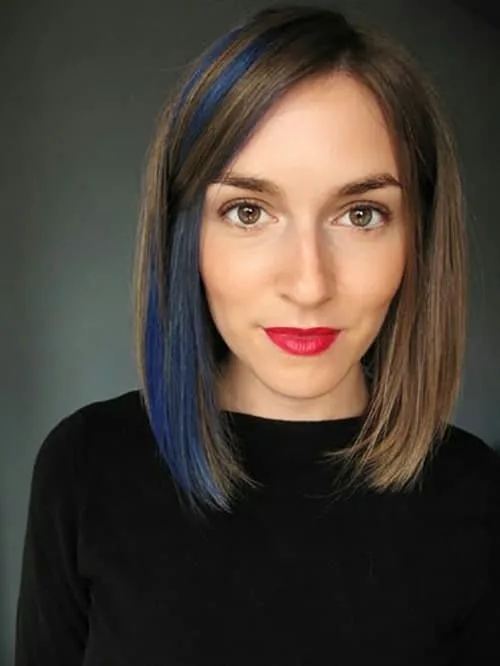 Image: Source
Brown hair with blue highlights doesn't have to involve dark base color and light strands only, although that's the most popular combination. You can go in the opposite direction by adding dark blue hair to a lighter base color. Cute look!
---
11. Short Shag Hair With Purple and Blue Highlights
---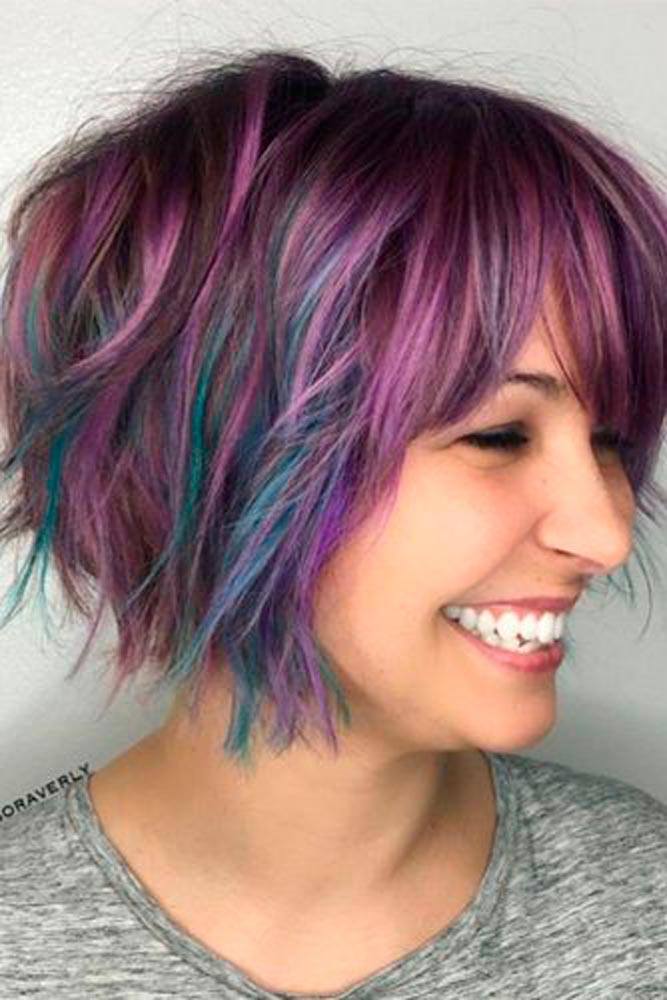 Image: Source
The dark purple and blue highlights on brown hair have taken the highlighting concept to a whole new level. If you do not want to go for full-blown purple-blue ombre hair, opt for this. Its unique look will help you stand out from the crowd. It seems so well-balanced for good reason. These two matching colors go perfectly together, as you can find them on the same side of the color spectrum.
---
12. Short Bob With Violet Hues
---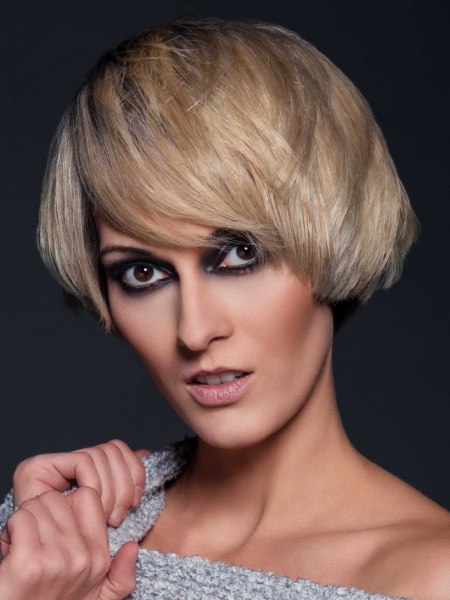 Image: Source
Violet hues applied at the roots make the brown hair look exceptionally sensational. Dress up your shaggy brown bob with violet highlights and get ready to tickle your fancy and set a trendsetting short hairstyle.
---
13. Money Piece Hair Highlights
---
Image: Source
Money piece highlights are a type of balayage that involves making the front stripes of hair on both sides of your face brighter than the rest of your hair. Whether your mane is chin-length or hip-length, money piece highlights look good on all hair lengths. A few light blue streaks in the hair make for a compelling and attractive look.
---
14. Turquoise Highlights on Light Brown Hair
---
Image: Source
The highlights created on light brown hair are easily noticeable. This combo of light brown and turquoise is mesmeric and attention-grabbing. One of the upsides of brown hair is its readiness to complement the most vibrant colors. Light brown hair with turquoise highlights is absolutely enthralling. Glossy, with high luminosity and lots of dimensions.
Short Blonde Hair With Blue Highlights
Blonde hair tends to look very monochrome without a lot of texturizing. Therefore, be sure to combine layers and blue highlights for a perfect final look. Moreover, blue highlights against the blonde backdrop will create a wonderful contrast, which will be sure to catch everyone's eye.
---
15. Sky Blue Highlights on Short Blonde Hair
---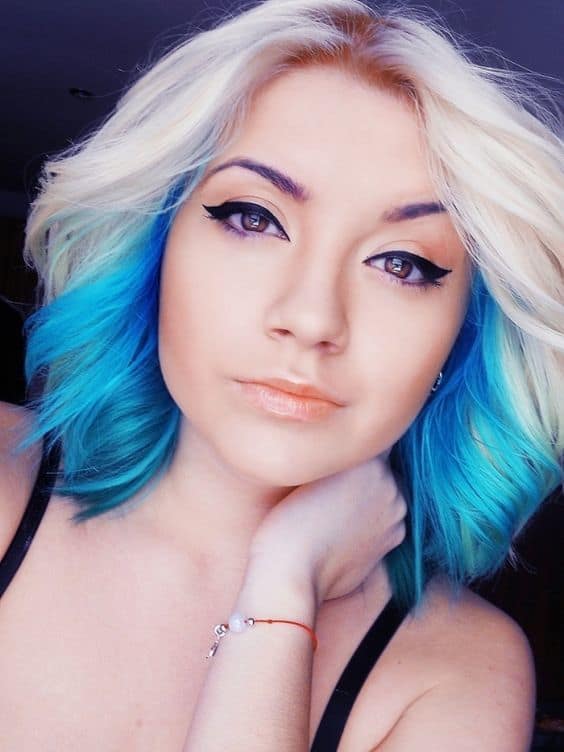 Image: Source
Don't want blue all over the head? Go for this sumptuous blue highlighted hair look suitable for blonde women. Instead of adding fine ones, take thick chunks of hair at the back of the ears and dye them in a shiny sky-blue hue. The combination looks extremely gorgeous.
---
16. Blue Streaks in Blonde Bangs
---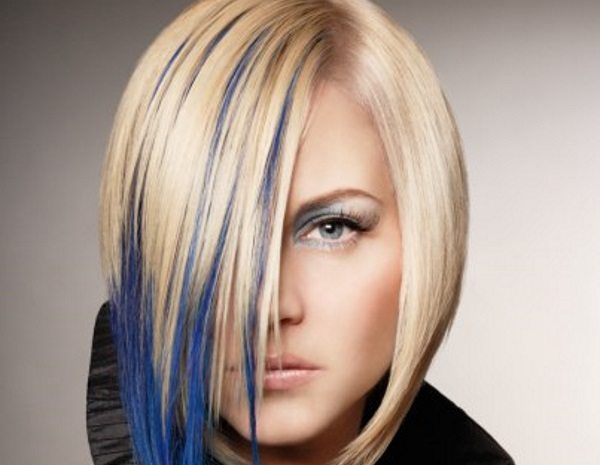 Image: Source
The bright blue streaks on the angled bob look classy and suit almost all face shapes. A blonde angled bob is pretty edgy as it is, and the midnight blue streaks will steal the breath away. However, you can top the blue streaks with juicy pink for a more vibrant effect.
---
17. Light Blue Highlights on Blonde Hair
---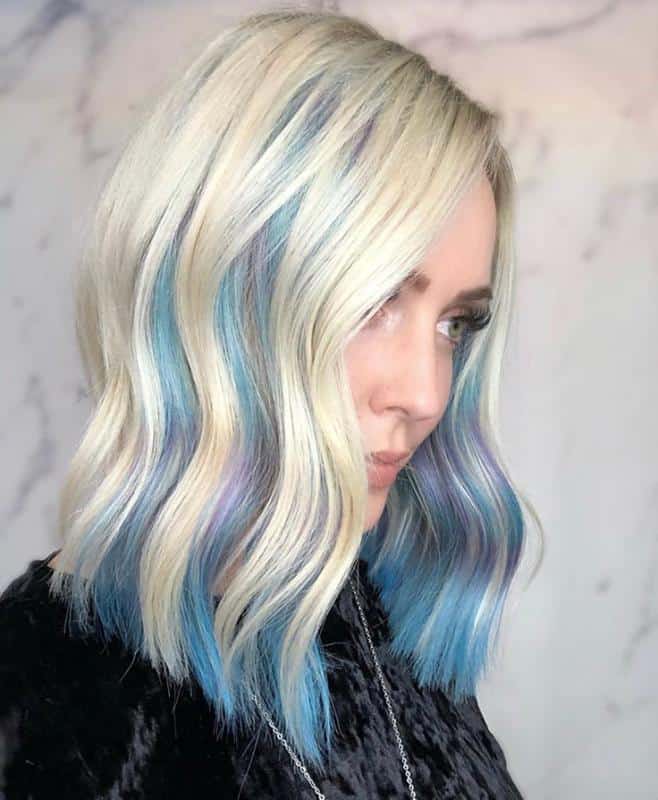 Image: Source
Light blue highlights will give a warm touch to your hairstyle since blue is a cold color. It feels much more vivid and airy with blue tones, and it can bring out your eyes. It can also be a very classy and formal hairstyle that can get very interesting with the smallest amount of work.
---
18. Midnight Blue and Purple Highlighted Short Hair Bangs
---
Image: Source
Adding highlights to your bangs or at the front part of the hair can enhance your facial features. The midnight blue streaks look subtle with purple highlights. Both colors suit the blonde hair base perfectly. This is surely the most effortless and fun way to spice up dull hair.
---
19. Electric Blue Highlights on Blonde Hair
---
Her blonde hair has been highlighted with a royal blue hue at the tips to create a striking contrast. This look is perfect for straight hair and looks stunning on shorter hair.