Though fall is yet to arrive, you should remain prepared to welcome the season. Getting dressed during the fall is interesting if you have some selected pieces in your wardrobe. Just a few items are enough to work as fall work outfits. The ensembles listed below can secure a great and season-appropriate 9-5 look for you. Whether you're still doing WFH where you have to attend online meetings or sit in corporate settings, here're plentiful fall work outfit ideas for you.
Fall work outfits are a bit of a relief. You can add office-appropriate layers without getting sweaty. In fact, fall is that time of the year when you can bring some freshness to your old boring work-ready looks. From jumpsuits to sweater vests, many sartorial pieces are considerable once you know how to create the balance.
All the work outfits for fall are chill-proof and sure to bring compliments. Keep scrolling for 19 fresh ideas that work for every industry.
Fall Work Outfits for Women
---
1. Jumpsuits With Blazers
---
Image: Source
A jumpsuit and a blazer paired together will be total eye candy for women, especially those who are looking for a relaxed office ensemble for fall. This combination of a blazer and a jumpsuit is irrefutable proof that a simple casual look doesn't have to be boring. To give your getup a smarter feel, complement this outfit with a pair of heeled pumps that go well with the color of your blazer and suit.
---
2. White Shirt and Plaid Suit
---
Image: Source
What to wear to work? A white shirt and plaid suit stands as the resigning fashion staples for office. Especially, during the fall.
Go for classy style in a white dress shirt and a navy plaid suit. If you're wearing a plaid suit, stick with a white or light-colored shirt that doesn't have patterns. This is a classic look that will always make you look polished.
---
3. Cashmere Sweater and Straight Pants
---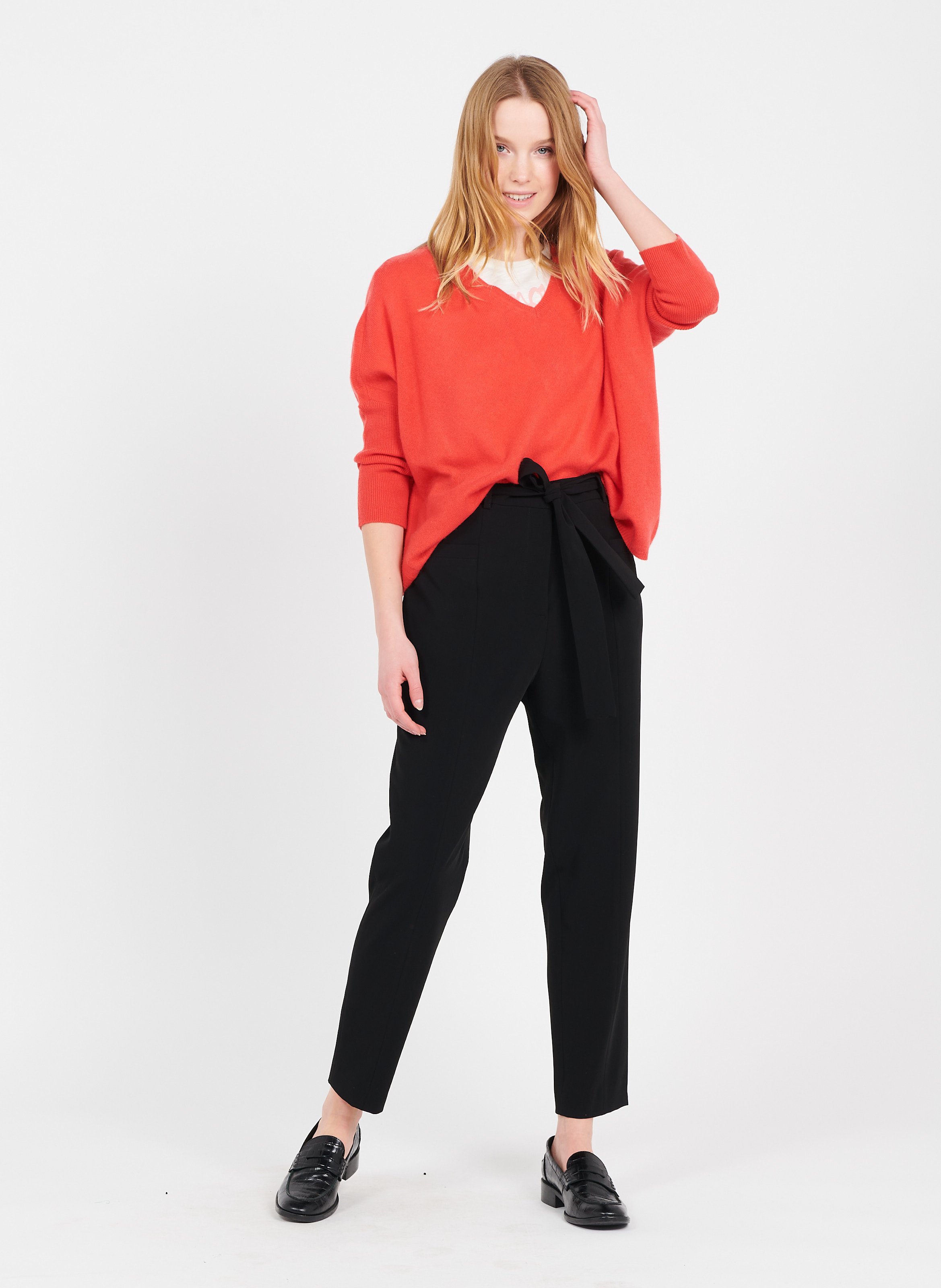 Image: Source
Cashmere sweaters are not only for the winter but also for fall. Dip yourself into bright-colored cashmere sweaters. For a chic and feminine work look, tuck in the cashmere sweater. This looks outstandingly professional and awesome, especially if you are wearing high-waisted pants.
Complete the dress with well-fitted trousers from your wardrobe. Such a combination makes fall work outfits cozy. It is an easy way to achieve both style and comfort.
---
4. Double-Breasted Jacket with Striped Pants
---
Image: Source
A double-breasted jacket is one of the lean-looking, smart, and stylish office outfits for fall. This jacket makes you look more feminine and elegant. From looking stylish in the office to ready for a night out, you can rely on a double-breasted jacket.
For a simple ensemble, pair the jacket with striped pants. This combination is easy to adapt and will carry you effortlessly throughout the day.
---
5. Flannel Shirt and Jeans
---
Image: Source
Button-up flannel shirts go with everything. Though an off-duty favorite, flannel shirts are easy to style for the office and date nights as well. A flannel shirt and light blue jeans paired together are such a dreamy look for fashionistas who appreciate cool chic styles.
Power up your outfit with kitten heels, a sling bag, and a pair of sunnies.
---
6. Ribbed Skirt Set
---
Image: Source
Fall is the perfect time to wear a ribbed skirt set. Your ribbed skirt can have pleats or hug your lower part tightly like a pencil skirt. Choose the one that makes you stay comfortable all day. Long pleated skirts can obviously be worn year-round, but there is just something about a long skirt on a crisp fall day that hits differently. 
Adding a pair of zebra pumps to a matching ribbed skirt set, Lisa Aiken adds the perfect element of fun to an otherwise neutral look.
---
7. The Lightweight Trench Coat
---
Image: Source
The trench coat is really a raincoat. They are quite lightweight but they are great for layering, which makes them excellent jackets to wear during the fall and spring.
Choose trench coats that end in the general knee area or just above your knee. You can wear them as a standalone piece with knee-high boots. Or, you can wear them over a knitted dress. This outfit can be complemented with a pair of black suede pumps.
---
8. Turtleneck Sweater and Jeans
---
Image: Source
A turtleneck sweater with jeans is one of the common fall work outfits. From the red carpet to street style, turtleneck sweaters can make any outfit fancier and more elevated. Turtlenecks happen to be pretty classic in terms of their ability to traverse fashion decades and still be a staple.
Whatever your style, it's more than likely that you've had your favorite jeans for a while. After all, they're durable and they stay stylish season after season. Team up your turtleneck sweater with jeans and finish the ensemble with a pair of sneakers.
---
8. Tweed Pant With a Top
---
Image: Source
Tweed pants are trendy and fashion nowadays. To look absolutely adorable, you can wear a neon pink sweater and pair it with grey tweed pants. Complete the outfit with black pointed-toe heels to add an elegant touch.
For those of you who have to wear a suit to work every day, you may be trapped in a place that thinks suits are boring. For an elevated appeal, complete the outfit with black pointed-toe heels. The bold-colored top makes the outfit look a bit more eye-catching.
---
9. Cardigan Sweater Dress
---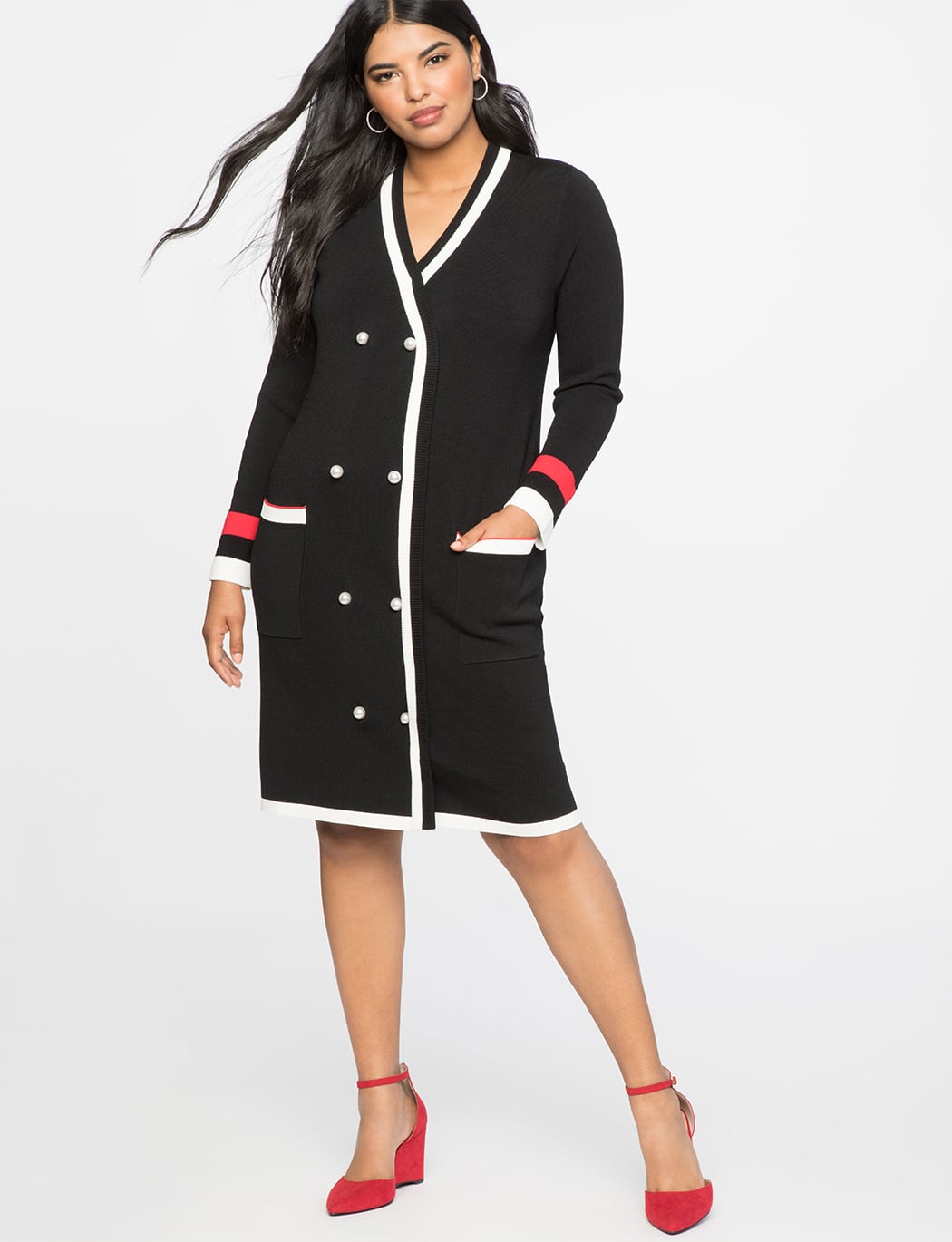 Image: Source
This cozy wardrobe staple is one you can get away with wearing from now until spring, and with a few key styling tricks, it's possible to make sweater dresses feel fresh and fashion-forward. A button-up cardigan dress can be worn as-is or amped up with a few small additions to impress everyone in your office with your styling sense. It will give you the confidence to show off your personality without hesitation. Finish the look with red strappy heels.
---
10. Cardigan with Ripped Jeans
---
Image: Source
Cardigans are a versatile piece that works for every age. Play a little with a front-open cardigan to jazz up your office attire. It is one of the fall work outfits that work best when you're confused about how to layer. For a fresh outfit, pair it with a plain top and ripped jeans. From the classic style to floor-hitting length, you can't go wrong with this chic layer.
A pair of ripped jeans will make you appear more stylish. Give yours a cozy update with distressed jeans, brown-colored heels, and a brown bag. However, this ensemble is especially recommended for those who work in an office allowing a business casual dress code.
---
11. Long Sleeve Bodycon Dress
---
Image: Source
Ditch your short-sleeved dress. Instead, embrace a bodycon long-sleeve dress. Choose a heavy fabric bodycon dress to keep yourself warm during office hours. Thin, silky materials tend to cling onto the skin and can create an unflattering look on some. They add certain oomph to your current closet and wearing them with confidence will only up the allure. 
Shaping underwear can flatten a not-so-flat tummy, smoothen bulges, conceal panty lines and just help you feel more fantastic. It's one of the style-essential secrets when it comes to the question of how to wear a bodycon dress. Take your look to the next level by pairing it with heels which will elongate your frame.
---
12. Silk Shirt with Animal Printed Skirt
---
Image: Source
Silk can easily make a statement. A silk shirt can be an excellent work outfit for fall if you choose heavy silk. It can become a major workhorse in your wardrobe if you're searching for a last-minute look for a night in the town or heading to the office.
Wearing a silk blouse is one thing, but styling it is another. Teaming it up with an animal-printed skirt is a unique idea to wearing a silk shirt. Animal-printed skirts are super easy to style, and you can create daytime looks, nighttime looks, and anything in between! 
If you have to attend a dinner party just after office hours, choose this outfit. It will make you look fashionista as well as professional.
---
13. A Denim Jacket on a Knitted Dress
---
Image: Source
You can never go wrong with a denim jacket.  It's that in-between-seasons piece, that chilly nights and breezy days must-have, and that easy-but-chic addition. This fabric found its place in the fashion scene, with various pieces that are today's must-have. A denim jacket is also an office-friendly version.
Wear a knit dress underneath when the temperature started to drop in fall. A cozy sweater dress paired with a denim jacket can create a comfy and casual outfit, and finish the look with ankle boots or white sneakers.
---
14. A Leather Skirt and a Slouchy Sweater
---
Image: Source
Leather skirts are versatile yet statement-making. It strikes the perfect balance of fashion-forward, classic, and cool, making it ideal for a variety of outfits. Whether worn bare-legged or with of-the-moment patterned tights, a leather mini skirt is one of those indispensable pieces that fashion editors and street style stars just can't get enough of.
To make it a more fall-appropriate work outfit, marry it with a chunky knit sweater. The sweater will help you to snuggle up in a warm, cozy, chunky sweater and feel safe in its embrace. Stay confident in this outfit by completing the look by wearing ankle-length boots.
---
15. Tweed Vest on a Button-Up Shirt
---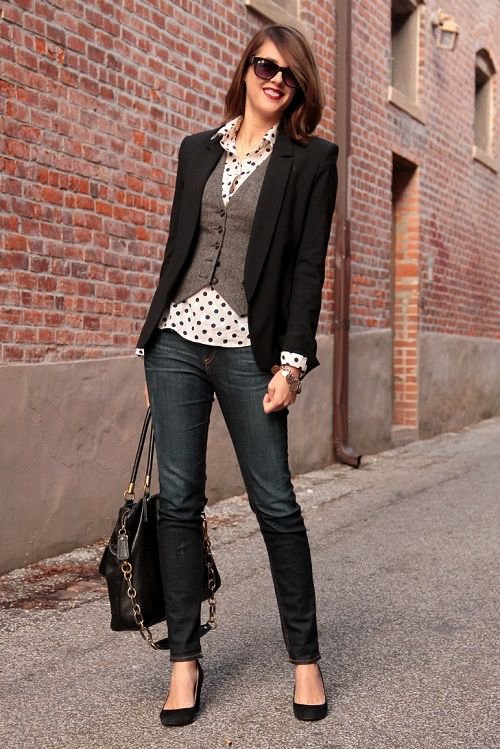 Image: Source
Such a combination is one of the fall work outfits for women that give you a professional vibe. If you have to present a show or attend a meeting, choose this outfit.
The fact that a tweed jacket looks just as great in off-duty combinations as it does in sophisticated ensembles makes it an ideal go-to jacket to throw on wherever you go and a savvy investment piece.
Get really creative within the formal dress code of your office. Wear a white and black polka dot shirt and layer a tweed vest on it. If it's too chill outside, you can add a further layer of a blazer. For the bottom, wear blue skinny jeans and black ballet heels to complete the outfit with style.
---
16. A Cotton Twill Shirt Dress
---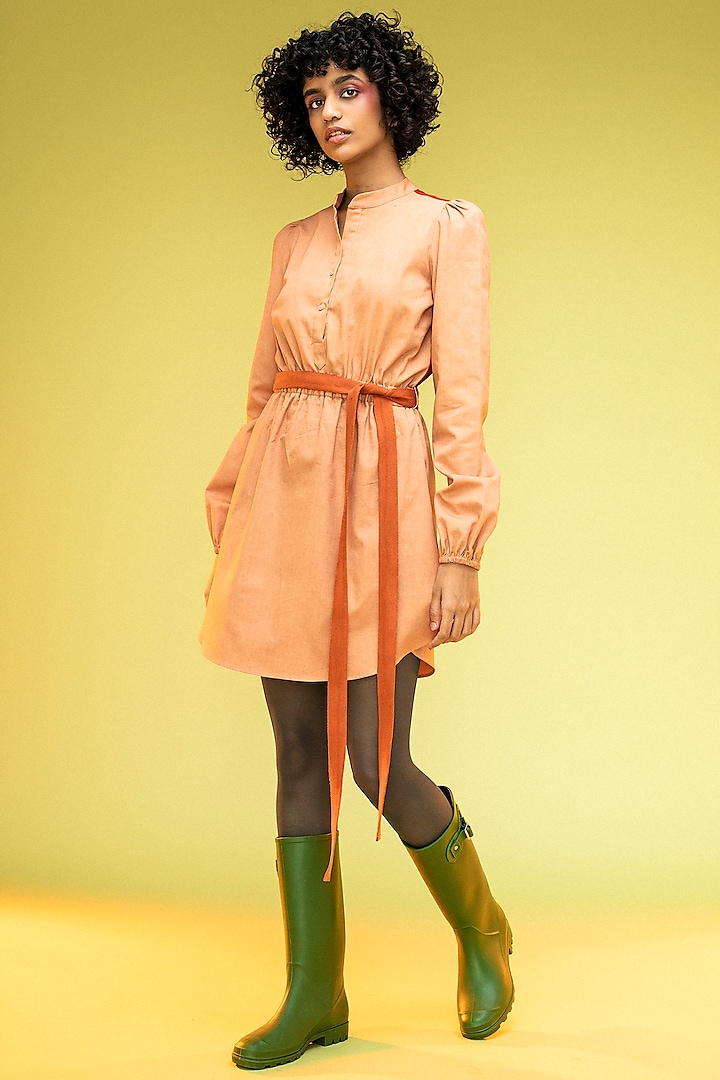 Image: Source
When it's too cold to wear no jacket but too hot to wear a puffer jacket, a cotton twill dress is here to fill the void. It is one of those practical fall work outfits for ladies who have no time to choose clothing pieces for layering. The important thing to focus on with this material is color. Like the double denim rule, it is important to vary color between the pieces that you are wearing.
Bring an interesting twist to the outfit by mixing two to three colors. For instance, you can wear stockings of black color and olive green calf-length boots.
---
17. A Pea Coat with Wide Leg Pants
---
Image: Source
Available in different colors, pea coats add a touch of class to any outfit you can think of wearing. This is a double-breasted wool coat with a revere collar and long sleeves. If you want to create an awesome look, then you should try on a bright color pea-coat and style it with basic dark color separates. 
Wide-leg pants are having a moment again. A pea coat and grey wide-leg pants will add sophisticated style to your day-to-day repertoire. Adding a silk scarf will create a stylish contrast against the rest of the ensemble.
---
18. A Sweater Vest
---
Image: Source
Sweater vests are making a comeback. Celebrities and influencers have been wearing them and they manage to pull them off. So, why can't you? They ensure comfort and you can wear them not as a part of layering but as a standalone piece too. If you're a fan of the preppy look, go for a classic brown or white knit vest.
From jeans to trousers to skirts, any bottom piece can serve as a good fall work outfit idea. Infuse a dose of sophistication with a pair of strappy heels and black sunglass.
---
19. A Midi Dress With a Scarf
---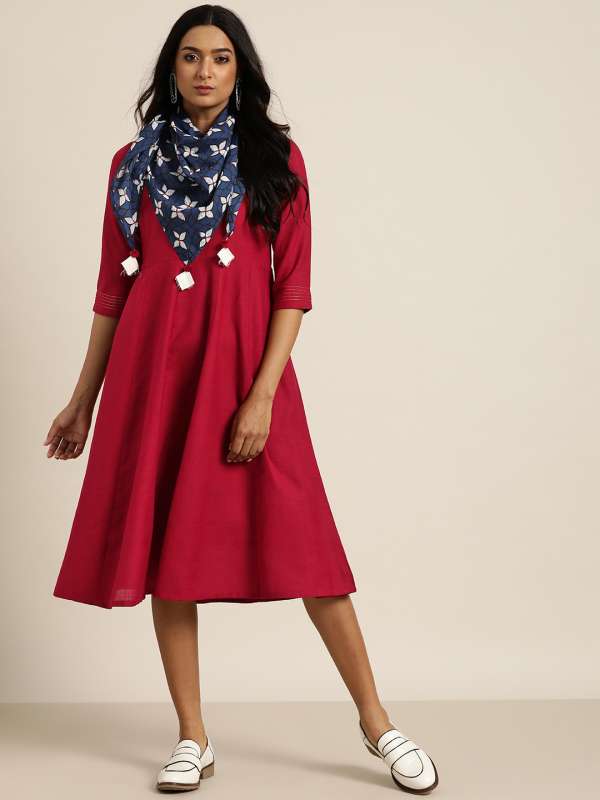 Image: Source
 A midi dress is where the hem ends halfway between the knee and ankle. The sweet "between the knee and ankle" length makes it optimal for work meetings and evening cocktail parties alike, while the silhouette enables as much freedom as any other dress. It provides style and warmth.
The sartorial combinations are truly endless. A simple scarf can be a good addition here. Style the scarf in your own way to look elegant.
The Bottom Line
You can easily repurpose many dresses already there in your wardrobe. Some of the extra add-ons for the fall are mainly blazers, trench coats, and sweaters. Make sure you know well what dress types are allowed at your workplace. Don't overlook them to not compromise with your style. Looking stylish and maintaining the office rules simultaneously is possible. It only requires patience and more research.
The outfits suggested above are perfect to help you enhance your style statement without breaking the official rules. Let me know which of these you're going to try. And I'm also eagerly waiting to get more such office dress ideas from you. Comment below.