Want to know how to style cargo pants? Read this blog to get 16 different and trendy outfit ideas.
Cargo pants are a great alternative to blue jeans if you've grown tired of them or aren't sure which design will be most popular this year. You can never go wrong with a pair of light or dark-brown cargo pants this year because brown pants, in general, are hugely popular.
In fact, many designers have reimagined vintage military garb in a more feminine and contemporary style that can be worn on a daily basis. Retro trends from the past five decades are often included in the current year's designs, so if you're experiencing deja vu, it may be because you've already seen them!
As a fashion statement, cargo pants of the 1990s had a lot of extra utility pockets. Despite the fact that they may look familiar from past appearances on Friends episodes, the new version of these cargo trousers has been completely reimagined to give them an entirely fresh look just in time for the new season. The new wide-legs, funky materials, and appealing tapered shapes of the current cargo trousers are sure to be a hit with fashionistas alike. Find out how to style cargo pants.
So, read on to know more about these versatile pants and our guide on how to wear cargo pants in the most stylish way possible with different tops.
What are cargo pants?
These full-length trousers with one or more side pocket about midway through the pant legs are sometimes known as combat trousers or cargo pants. Pockets are, of course, a standard feature of pants. As a general rule, these pockets are located on both sides of the waist, respectively. Because the pockets of cargo trousers are positioned differently from those of other full-length pants, this distinguishes them.
Additionally, cargo trousers have one or more side pockets — known as cargo pockets — that are located further down the pant leg.
As per Wikipedia, cargo pants can be dated back to the late 1930s, when they were worn by British soldiers in the Armed Forces. The United States military began wearing cargo pants in their uniforms shortly afterward. cargo pants have been useful to both the military and civilians alike. Soldiers could carry a greater amount of gear while wearing them.
Even though cargo pants were initially conceived for military usage, civilians have begun to adopt them as well. Wearing cargo trousers as part of one's everyday attire has been popular with style-conscious men and women all over the world for decades.
 How To Style Cargo Pants With Different Kinds Of Tops?
---
1. With a Tie-Dye Long-Sleeved Shirt
---
Image: Source
It's not just the colors and patterns of the tie-dye designs that have been updated for this year; they've also been modified to avoid looking like a hippy! A pair of high-waisted black cargo pants with barrel-leg hems that fall just above the ankle would look great.
Tuck in the front of your red and white tie-dye long sleeves with a loose fit and you're ready to go. Beige, high-heeled summer shoes, and red leather, rectangular handbag complete the look. The combination of red and beige/sandy tones is fantastic!
---
2. With a Plain T-Shirt
---
Image: Source
Cargo pants look great with a simple t-shirt. Wearing it is a breeze and it's really convenient! Despite the fact that it's "simple," you can still add a lot of trendy touches.
With a crimson lip and a ferocious brow, this is a popular choice! You also have the option of wearing sneakers or pumps. Both will give you a current and cool style.
---
3. With a Plaid Shirt
---
Image: Source
This button-down shirt with long sleeves has quickly become one of the most sought-after items among adolescents. Additionally, it looks fantastic when paired with cargo trousers. In point of fact, they complement one another so well that it might be difficult to decide which one to put on first!
However, you should make every effort to avoid wearing sneakers and jewelry that is too heavy. Choose something basic, like a bracelet or a pair of earrings.
---
4. With a Sheer Top
---
Image: Source
Because it is both flirtatious and girly, this matching set of clothes is arguably the one that requires the most courage to wear. But if you are looking for a fun idea for a night out with your pals, this is one that you should absolutely consider.
You might wear heels of a higher height. Nevertheless, you need to layer the jacket over the see-through crop top.
---
5. With a Crop Top
---
Image: Source
Small, fashionable tops go well with cargo pants that are wide at the calf. I bet you have a favorite crop top—the one with a unique pattern, brilliant color, or cool metal studs. Those green, wide-legged cargo pants will look great with this top!
Don a pair of white sneakers for a hip streetwear appearance that is sure to get you some compliments! If you're heading out for errands or a casual coffee date, this outfit is ideal with a pop of bright red lipstick.
Because cargo trousers tend to be baggy and floppy, you'll want a top that complements your overall style without overpowering it. If you want your outfit to appear more casual and less frilly, stick to simple or chequered crop tops.
---
6. With a hoodie
---
Image: Source
The hoodie is yet another fashionable option. As it hides your chest and lends structure to your legs, it pairs well with cargo trousers and sneakers. This is an excellent choice for a look to go out and about in the city.
You can wear the exact same outfit with a cap or hat if you want to give off a more laid-back vibe.
---
7. With a Graphic Tee
---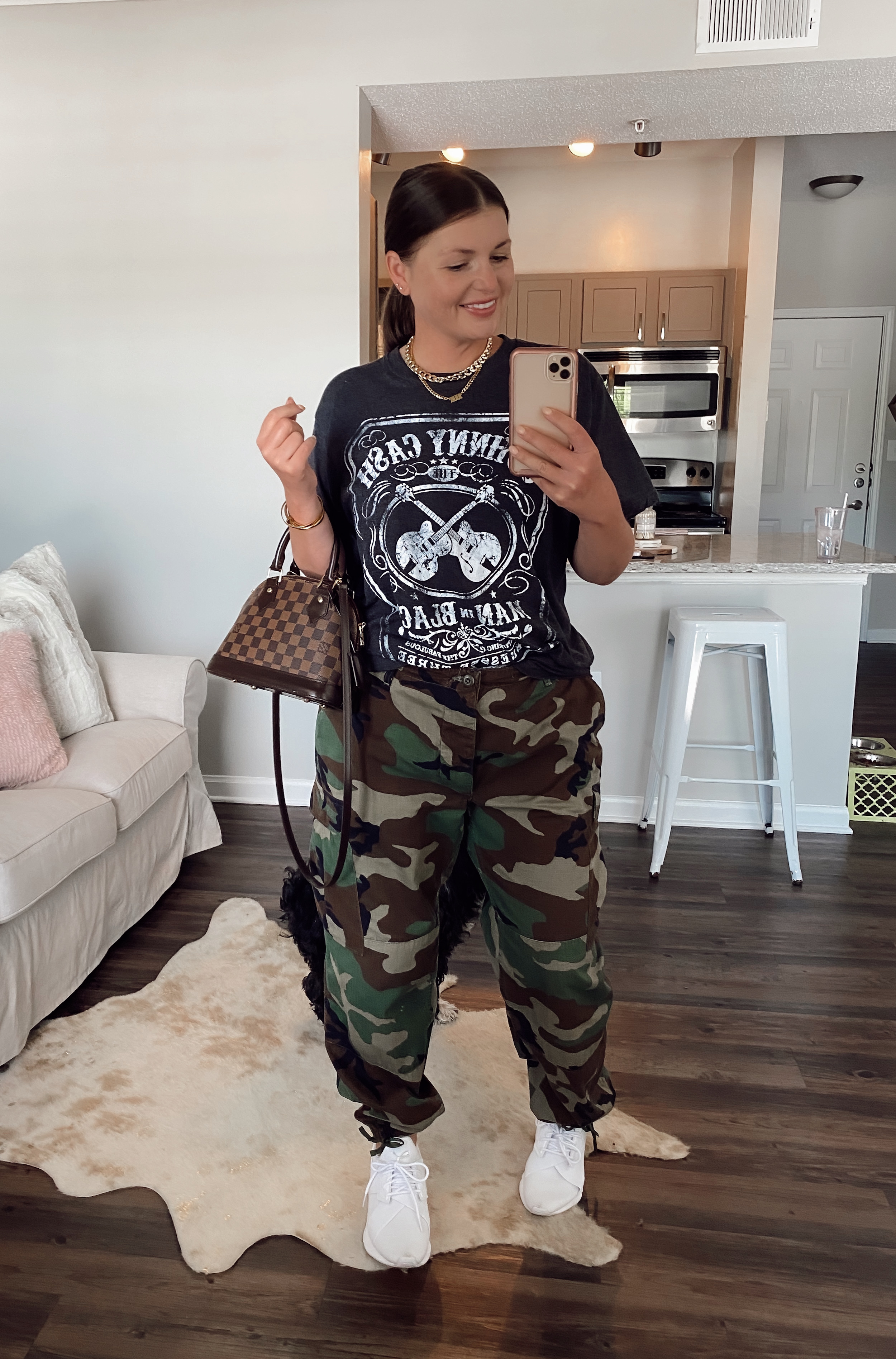 Image: Source
Wear a cool, camouflage-inspired streetwear style to give the impression that you are more athletic. You probably have at least one graphic t-shirt in your closet that makes you feel as though you are the coolest person alive when you wear it. Perhaps it is a band t-shirt, or perhaps it has a hilarious saying printed on the front.
Just throw that on and match it up with your go-to camouflage cargo trousers. Simply choose a pair of sneakers that complements the colors on your t-shirt, and you'll be good to go!
---
8. With a Sweater
---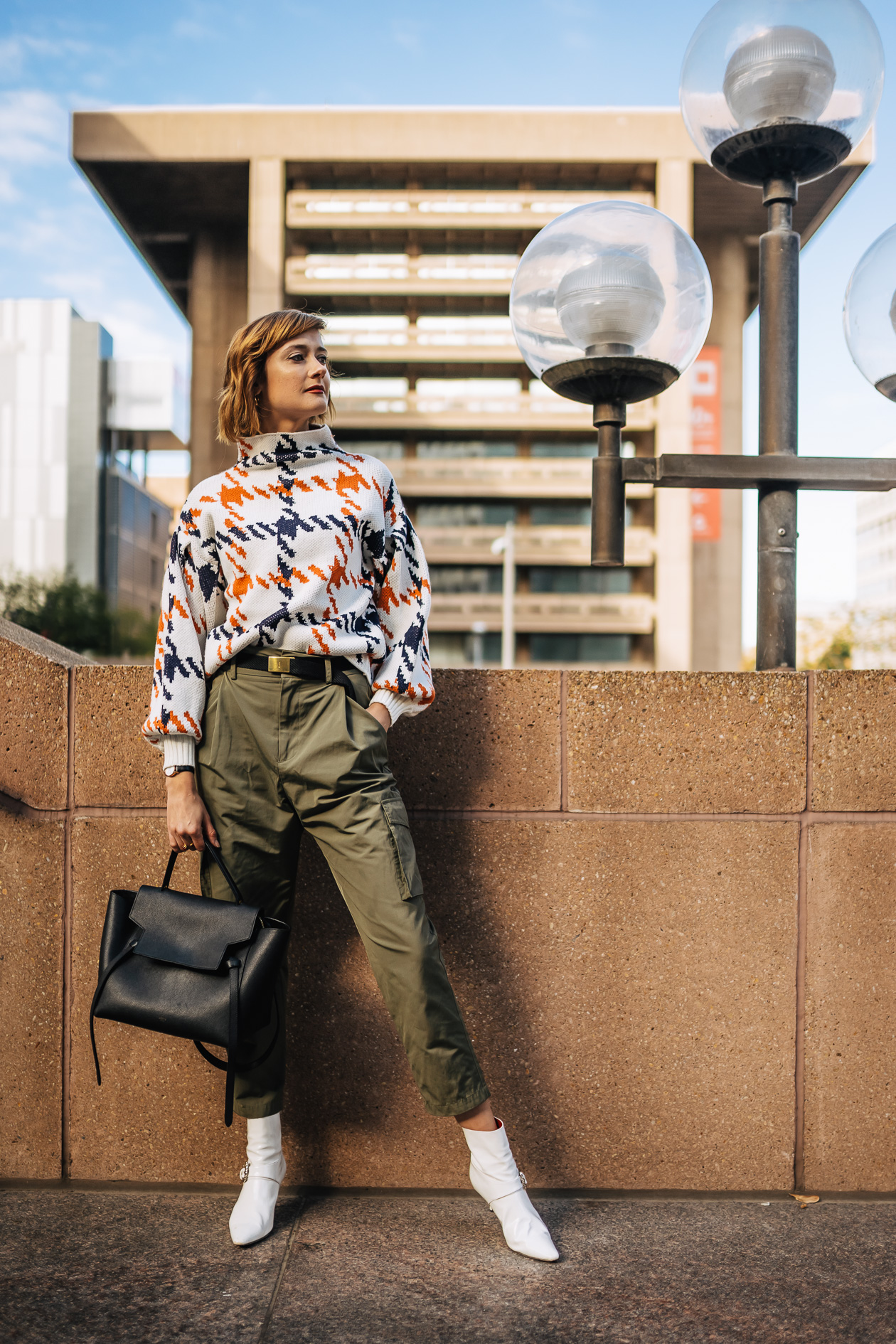 Image: Source
This ensemble is perfect for the winter season. In fact, anytime it starts to become chilly outside, you may complete this outfit by adding your leather jacket.
You should choose a chic, faux-leather style because it is appropriate for any event. Mix and match your favorite neutral-colored button-up cardigan or sweater with a pair of trendy faux-leather pants that have a shiny finish.
You may achieve a look that is ready for the runway in a matter of minutes by accessorizing your outfit with a pair of chic and girly mary janes.
---
9. With a Blazer
---
Image: Source
The blazer looks stylish and sophisticated over any pair of pants, including trousers. This is due to the fact that it covers a substantial portion of the body. It makes your hips and waist look much smaller as a result. In addition to that, it has a stylish cut that looks great on any athletic body type.
You may wear coats over your cargo trousers and tie your hair back into a low ponytail. This makes a significant difference, as maintaining one's hair while wearing a coat can be challenging at times.
So, what do you think, fashionistas? Wear your cargo pants with a low ponytail, then you'll be ready to hit the road in no time.
---
10. With a Bright Top For a Beach Outing
---
Image: Source
When it comes to how to style cargo pants, don't be afraid of exploring colors. The use of colors that are bright not only improves your appearance but also your mood.
You can easily add a lot of colors to your wardrobe by wearing a bright-colored t-shirt because this will create an instant refreshing look. This is because cargo trousers are usually only available in a restricted number of hues.
If you are going to be doing some weekend chores or going on a casual outing, you can look cute and put together by wearing a cowboy hat and a blouse that is loose-fitting.
---
11. With An Off-Shoulder Top
---
Image: Source
When it comes to putting together a laid-back outfit for a party, off-the-shoulder tops and cargo pants are a winning combination.
Wearing clothes like this can make you feel as comfortable as possible on any given day. To make a statement about your personal sense of style, try donning a trendy pair of shoes.
---
12. With a Black Trench Coat
---
Image: Source
Combine your cargo pants with a trench coat for the coolest city girl outfit ever. Invest in a pair of tan or beige cargo pants for your wardrobe and then wear a top in the same color family over it.
Only a shirt that doesn't draw too much attention is acceptable for this event. You'll finish the look with a black trench coat that's long and elegant. A pair of black pumps will complete your appearance.
---
13. With a Turtleneck Top
---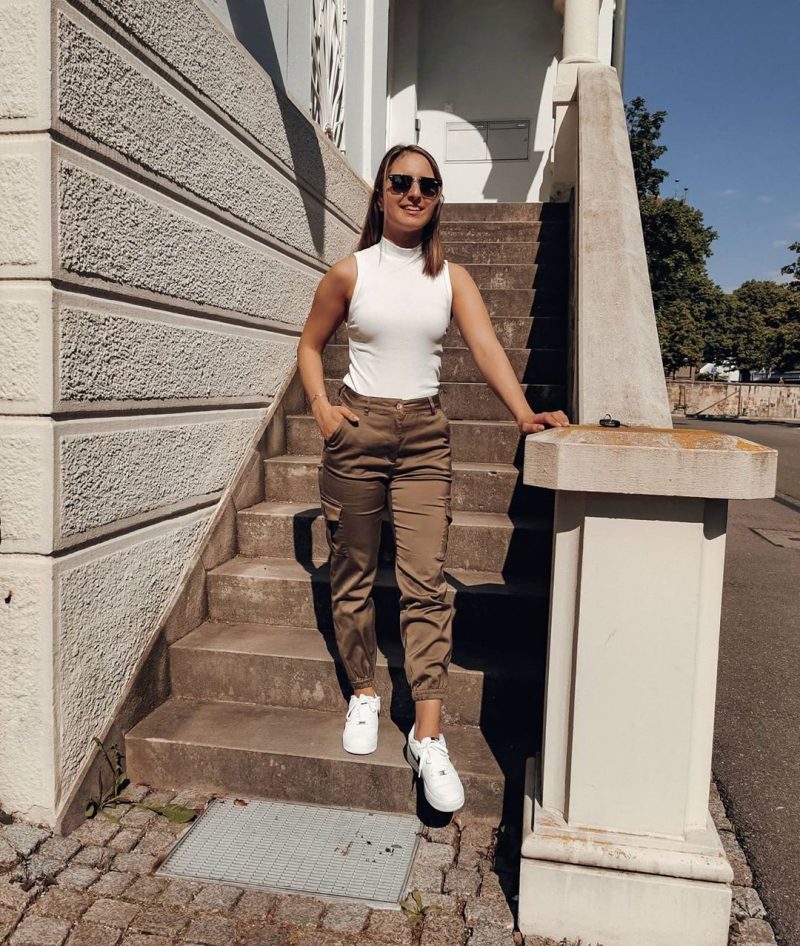 Looking for some more inspo on how to style cargo pants? Here's another one for you. Wear your cargo with a polished turtleneck for an intellectual look. It's entirely possible to wear cargo pants with a sophisticated, professional look while wearing them.
Take a pair of your favorite neutral cargo pants and tuck in a soft, attractive turtleneck under them. A pair of black or white sneakers will not only complete the look but will also elevate your casual style statement.
Also, Read
25 Refreshingly Cool Turtleneck Outfit Ideas to Wear in Winter
---
14. With a Puff-Sleeve Shirt
---
Image: Source
This trendy, unexpected fit combines feminine and masculine styles in a unique way. Cargo pants' casual, industrial appearance works especially well when mixed with feminine details and flowing fabrics, creating an eye-catching contrast.
A puff sleeve blouse in a white color works well with this outfit. You'll get a lot of attention! Nude pumps and a pair of sunglass will add perfection to the outfit further.
---
15. With a Denim Jacket
---
Image: Source
A denim jacket can do its own magic instantly irrespective of the bottom you choose. Cargo pants and denim jackets look pretty good together.
This simple off-duty look can enhance your personality effortlessly. The ruggedness of cargo pants blends well with the casual vibes of a denim jacket.
Add a simple long necklace and a pair of ankle-length boots to this ensemble for the final touch.
---
16. With a Peplum Top
---
Image: Source
Peplum tops have created their way to the closet for most women. Whereas cargo pants have a rugged appeal, peplum tops are completely feminine. For this reason, pairing these two will create a balanced look.
Say "Yes" to this cargo pant outfit, especially if you have an hourglass silhouette.
If you love monochrome outfits, this can be a must-try option.
The Bottom Line
As a result of the rise in popularity of the street style fashion trend on Tiktok and Pinterest, cargo pants have become a popular pant style among fashionistas worldwide. It is likely that you have seen several gorgeous cargo pants outfits on these platforms. They are also included in great festival outfit ideas.
Keep up with street style attire — it's been growing in popularity recently! It's a good idea to get yourself a pair of cargo pants if you haven't already. It is recommended to wear them with heels or booties for a more put-together appearance. And if you're going to wear cargo pants to a formal event, you shouldn't be scared to try out a variety of shoe types because they look great with these trousers.
Author's Bio
Hi, I'm Eleena Wills. Being a writer and blogger, I strive to provide informative and valuable articles to people. With quality, constructive, and well-researched articles, one can make informed choices. I cover a wide range of topics, from home improvement to hair styling, health & fitness, and automotive. You can follow me on Facebook, Twitter & LinkedIn